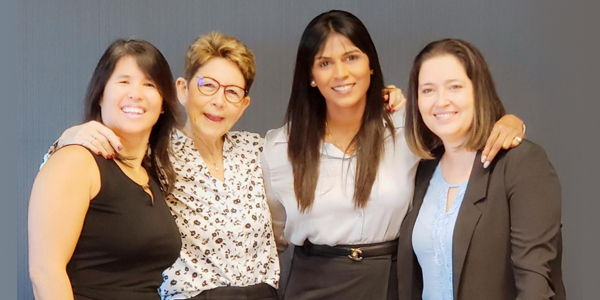 This International Women's Day, we take part in forging a path to a gender equal world by celebrating the women who help shape the lives and culture at Everise. As we drive forward, Everise is proud to play our role in creating equal opportunities for women around the world.


In the past, there weren't as many career paths for women to take. The opportunities for women to grow were simply lacking due to factors which by today's standards seem inconceivable. There was a glass ceiling that prevented them from achieving greater roles; one that needed to be shattered in order to progress as a society.
"In my day, when I first entered college, it was assumed that most women were there—even though they were extremely bright women, to find husbands. We were in the sixties, and that was the way the world was." – Helen Franco, Chief Legal Officer

Today, women are now breaking boundaries and setting new milestones for what they can achieve around the world. There has been a steady increase in the number of women in the workplace over the years, and as a people-first company, Everise dedicates ourselves to the cause of promoting equal opportunities to all of our champions, with the goal of providing a workplace that recognizes individual effort, talent, and achievement.
"We have so many examples, not just here in Austin, but across our locations where employees started at the frontline as an agent and moved up into supervisor position six or nine months later...with Everise, there's so many opportunities globally."
- Carolin Knobelspies, Senior Vice President of Operations
But it's not enough to have an equal share of the opportunities, there needs to be an equal share in pay. Despite the slow progress, Sheena Ponnappan, Everise's Chief People officer, is proud to announce that Everise has "eliminated gender pay inequality." At Everise, one of our core values is to Celebrate Diversity, and we believe that people should be rewarded based on purely on their performance.
We run a meritocracy. It does not depend on your gender or race or any of those factors. It's about how well you perform your job.
- Sheena Ponnappan, Chief People Officer
With 58% of our champions being female, we're immensely proud that our our efforts are paying off. But we aren't finished here. Driven by an amazing group of female leaders, we will have more exciting announcements coming soon that will further shatter any ceiling standing in their way.
"The way women are judged at Everise is for what they can contribute to the company, not necessarily the fact that they're women. And that's hopefully the way the world is going. For me, having seen the entire gamut of what goes on in the workplace, it's been extremely refreshing. We're not quite there yet, but certainly in the world as a whole, there are more women who raise their voices, and more women whose voices are heard."
- Helen Franco, Chief Legal Officer
Get to know more of the amazing women who make up Everise from around the world: