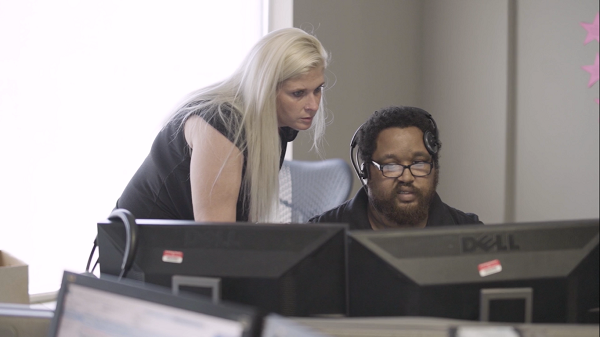 One of the best parts of working with multiple associates is that it opens up the possibilities to grow alongside different people with wonderfully diverse backgrounds and interests. One such individual is our featured Everiser for today, meet Chantell Johnson.
Aside from fulfilling her responsibilities as a Quality Assurance Agent, another thing she likes to work on is hair. She grew up in Bluejacket, Oklahoma where she developed a habit of playing around with some of her friends' hair. When she was in high school, she discovered an innate talent for hairstyling when she started braiding her teammates' hair upon joining the basketball team. This routine eventually grew into a fascination for learning different hairstyling methods; a craft which she which enjoys practicing to this day.
"What I like to do on my spare time is hair. I like to style it and my favorite thing about doing hair is doing updos, it's my favorite part. I discovered I had a talent for this in high school, I would just do my hair in different ways, bobby pinning it up, and I would actually braid all of the girls' hair in our basketball team because I play basketball and I would braid everyone's hair before the game."

Her hobby for hairstyling has taught her the value of patience and style recognition which she incorporates well into her role of coaching agents. It gives her ideas on how to connect with others by looking for the best way to coach someone and finding out which coaching style is best suited for them.


"It's important for you to have patience when doing the updos because sometimes your hair will not do what you want it to do, and you have to make it do what you want it to do. What I find most interesting most about my job is coaching the agents and being able to actually connect with them and see what style is best to fit them on how I'm going to coach them."

When asked about what she loves most about working in Everise, she cites that it's mostly due to the people that she gets to work with. She finds great joy in meeting people with colorful personalities and learning unique life lessons from them. She credits it as her reason for staying with the company and appreciating the work that she does for a living.


"I've stayed here for so long because of the people, I love interacting with people and I think that we all have our own personalities and all of that, and the thing I like the most is that I can learn more about people themselves."

Chantell's unique approach towards her work embodies the values of what makes an Everiser truly exceptional, and we're grateful to have her as part of the Everise family.
At Everise, we ensure that we put the spotlight on the people behind our success. That's why we are featuring employees from different walks of life and shedding a little light on the people of Everise. Learn more about our Tahlequah Experience Center and our people just like Chantell today!


Join us!