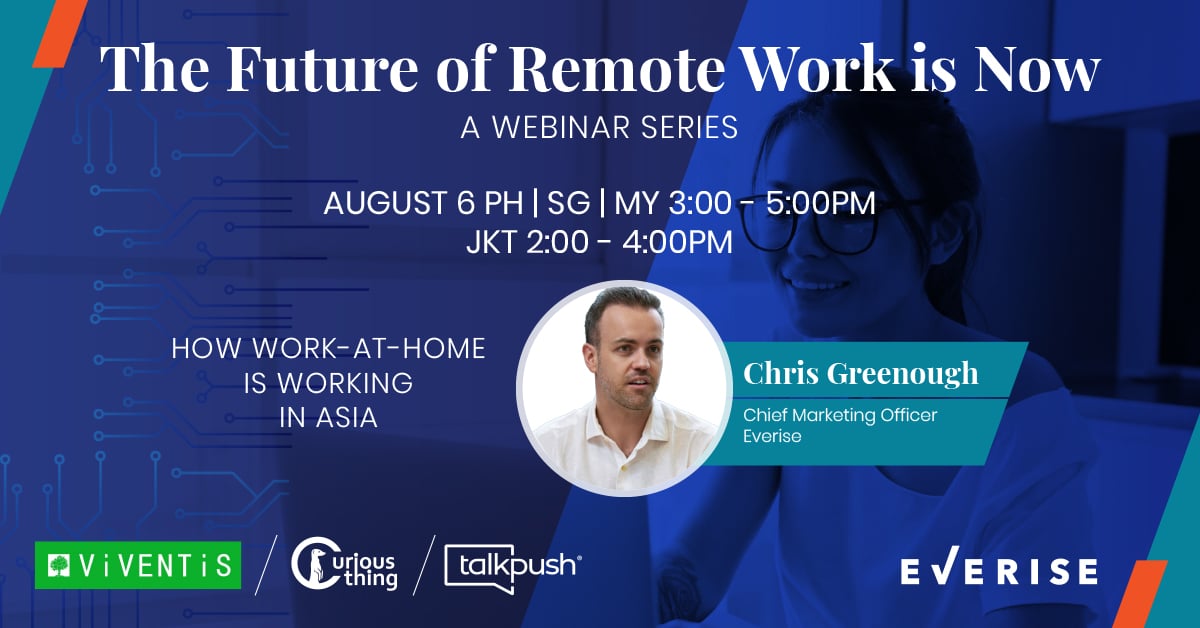 Chris Greenough
, Everise Chief Marketing Officer, spoke in a webinar conducted by Viventis, titled "The Future of Remote Work is Now." In it, he shared insights into the impact of remote work on our employees and overall performance as an organization.

His talk, titled "How Work-at-home is working in Asia," sought to dispel myths from recent media reports and answer critical questions leaders have about the long-term sustainability of a remote model in Asia. Using data from our latest Impact Report, he gave the playbook for how businesses can make remote work, work.
During the webinar, he discussed:
The effects of remote work on hiring and training.

Employee Engagement while working at home.

Remote work's impact on employee performance.

Key takeaways from the webinar:
1.
Think cloud-shoring
Effectively harnessing enterprise cloud technology and connecting them to people and processes across geographies is critical to remaining resilient.

2.
Listen to your people
Customer support teams are productive at home and have ideas on how to maintain this performance in a future-ready flexible model.

3.
Invest in remote-work training for managers
Managing a remote workforce comes with challenges that goes outside the typical employee-manager paradigm. Factor in additional resources to tackle
loneliness, and increase face-to-face virtual meetings. Everise is aggressively expanding our learning and development programs to continue driving highly engaged teams.

4.
Now is the time to grow
The data shows that home-based support can work. Look to your outsourcing partner as a growth partner who can help you accelerate your top-line, while trimming your bottom.

5.

Maintain strong communication with your partners
Over communicate rather than under communicate. Look for partners who can help you grow, while managing your costs.
Related Insights