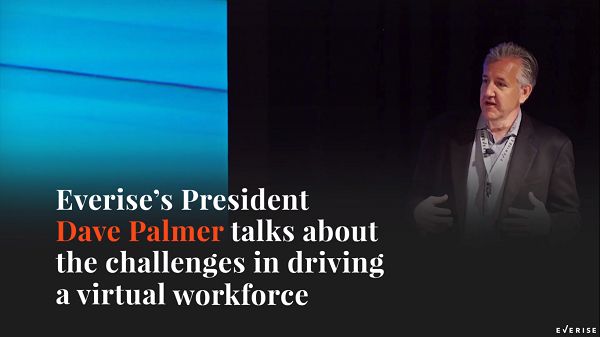 As technology continues to evolve, working with a laptop or a smartphone wherever you are has never been this easy. This is definitely a step forward in the workforce especially for job candidates who seek a work-life balance through home-based work. Having the option to be in a home-based work setting is one of the magnets that attract job seekers into staying with a company.
Based on the 2017 State of Telecommuting in the U.S. Employee Workforce report, 3.9 million Americans in the workforce are in a work-from-home setting. This is a 115% increase from the 1.8 million employees in 2005. Remote agents name job flexibility and the zero-mile commute to work as a great reason for working at home.
In an annual survey conducted by FlexJobs, 66% employees also feel more comfortable and productive working remotely than staying in a brick and mortar office. They cite that remote work frees them from distractions, office politics, and inefficient meetings.
Everise, a global customer experience company, shared their internal data on their CX agents and found that home-based agents are well-educated with 62% having a college degree while only 30% of co-located employees hold a four-year degree. Remote agents are also effective because of their wisdom gained through experience in the workforce, which is an average of 10 years.
Home-based jobs are also beneficial for employers as Global Workplace Analytics reports that businesses save an average of $11,000 per half-time remote worker. Even Fortune 1000 companies around the globe are revamping their models to accommodate mobile employees, which results to vacant desks 50-60% of the time.
Work at Home Jobs: Solution to the High Attrition in the CX Industry
In the customer experience industry, where the turnover rate can go as high as 30-45%, remote CX agents are means to combat the ballooning cost of high turnover.
Low employee retention directly affects the bottom line of a contact center. According to The Center for American Progress, for an employee earning less than $50,000 annually (three-quarters of US workers), the cost of turnover is 20% of their salary.
The high turnover rate in the industry is often attributed to lower employee engagement due to:
Repetitive work
Lack of recognition
Poor team culture
Low employee satisfaction
Lack of professional development opportunities
For companies like Everise, the wellness of their employees is equally important as the customers they serve. So, work at home jobs are means to mitigate the negative impact of employee attrition, which imposes substantial drains on productivity.
According to an Everise report on the effect of home-based CX to attrition, turnover for brick and mortar employees are 11% while a remote workforce is at 6%. It also debunks the belief that work at home results in higher absences as both the traditional and remote jobs result in an unchanged level of absenteeism.
The Challenges of Managing a Home Base Workforce
While many companies today, bank on the benefits of work at home jobs, many prefer running on a hybrid workforce with co-located and remote workforce working together. This, however, can be challenging especially on policy alignment, teamwork, communication, and unified company culture.
David Palmer, president of Everise, addresses this problem during his talk about the challenges in driving a virtual workforce.
"If you ask somebody to work both on the brick and mortar side and work at home side, you're not gonna get their best thinking. You need to have people who understand and are driving a virtual workforce," Palmer said.
In setups like this, leaders have a huge role to fight the negative biases that come with remote work, so both traditional and virtual employees get fair treatment. Leaders driving a virtual workforce should consider these steps to manage their hybrid workforce:
Set up specific policies for reporting and productivity
Plan communication for both teams
Give a fair chance to the remote team to land new projects
Fortify the company culture to build a relationship between all employees.
Leverage technology for collaboration and communication
Despite all your best efforts, integrating virtual employees to your internal culture could still take a lot of time. Hence, before adopting one, a thorough assessment should be done.
Hiring the right people is also helpful to ensure a unified team regardless of where their preferred locations are.
Related Posts: