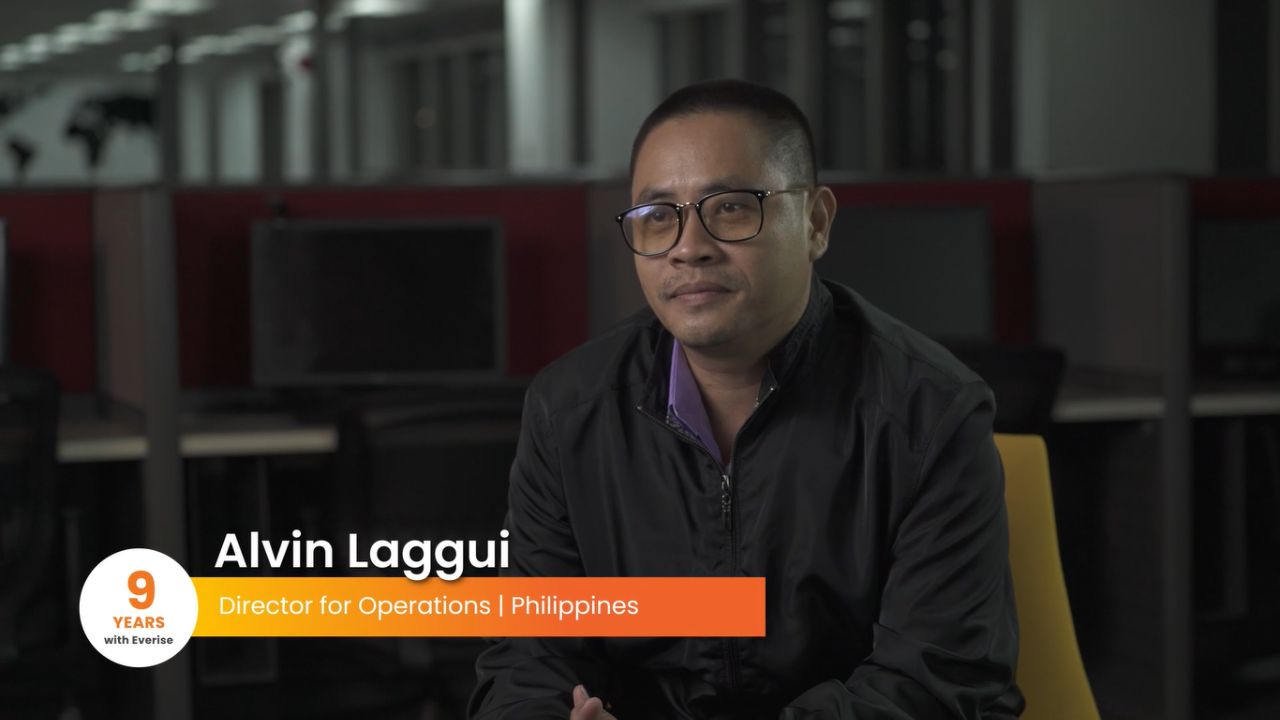 As a global experience organization, Everise evolves experiences not just for our clients but for our people as well. Our Champions are behind our success, and by sharing their stories, we hope to inspire more of our people by shedding some light on the amazing and interesting lives of our tenured Champions and their journey as members of our Everise family.
We continue our special edition of our People of Everise series featuring more of our tenured Champions and their career evolution.
Meet Alvin Laggui, Director for Operations from Everise Philippines.
Alvin has been with Everise for the past 9 years, sharing his talents and abilities with our organization. Outside of work, Alvin is a father of two who leads an active lifestyle, having multiple interests in various sports and outdoor activities.
"My name is Alvin, and I am an Operations Director here at Everise. I'm a happy-go-lucky father of two. I love sports. I play basketball, I play baseball, I play billiards, I love mixed martial arts, I go to the gym as well. I go biking every weekend - there's a lot of things that I do outside of work."
A typical day for Alvin consists of activities and practices that he has familiarized himself with throughout his career. At work, Alvin learned how to adapt to changing schedules and organize with different departments. For Alvin, being adaptable to different situations and sudden changes is an important trait to have for working and stepping up in any given role.
"I check my emails and schedule to make sure that I get to attend to any important things that are scheduled. And if there's anything that needs to be adjusted at the start of the shift, I am able to make those adjustments and coordinate with specific departments that need my attention."
Alvin believes that helping people is one of the best parts of his job. As a veteran in the BPO industry, Alvin has had his fair share of managing talent. He personally finds fulfillment in interacting with others, guiding them, and helping them develop the skills they need to progress in their careers. For Alvin, helping our Champions evolve into the best versions of themselves is one of the most fulfilling experiences to have.
"I can't imagine not working with people after being in this industry for 15 years and managing individuals. The fact that I'm able to change the direction of their lives, the fact that I am able to develop and progress their career through the assistance that I could provide them with coaching and development that I do provide. And I think that's the most satisfying part of my job."
Alvin also credits our people-first culture as the main reason why he chose to stay with Everise. For Alvin, he felt that everyone wanted him to succeed, just as much as he did for the people he's managed throughout his career. Having supportive colleagues, a work culture that encourages growth, and a progressive work ethic resulted in Alvin's career evolution, which further influenced his decision to stay with Everise.
"I stayed here because I felt that people around me, especially my leaders, wanted me to be successful at what I do. Starting from a supervisory position, moving up to an operations manager, now to an operations director all the way. I have felt the support of my leaders and that made me stay here in the company."
At Everise, we ensure that we put the spotlight on the people behind our success. That's why we are featuring employees from different walks of life and shedding a little light on the people of Everise. Learn more about our Manila Experience Center and our people just like Alvin today!
Related Posts: