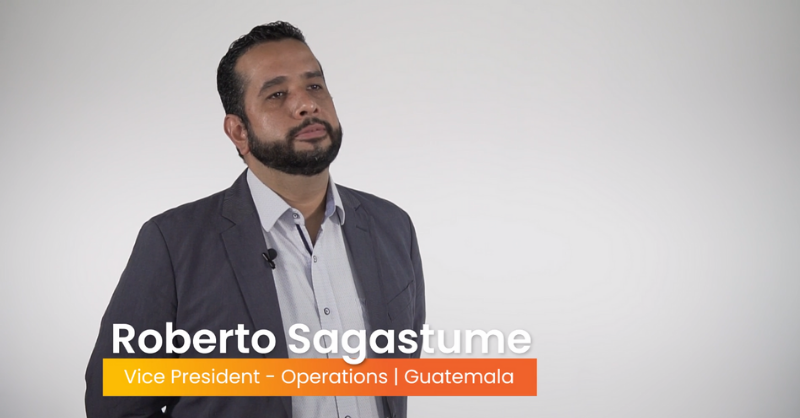 Meet Roberto Sagastume, former Senior Site Director and now VP of Operations for Everise Guatemala. Back in 2020, Roberto was featured during the Hispanic Heritage Edition of our People of Everise Series as we spoke with him in a remote interview where he talked about his hobbies and the beauty of Guatemalan culture. In this episode of People of Everise, we met with Roberto in person to learn more about his personal experiences and growth as a member of our Everise family.
Roberto believes that adapting to different situations is important for any line of work, and it is a quality that he embodies in his personal life. When not in the office, Roberto spends his weekends doing different activities such as farming and helping raise cattle.
"I believe what's unique about myself is my adaptability to different environments. From working in an office during the weekdays, or helping raise cattle on a farm during the weekends."
As part of our Everise family, Roberto was able to sharpen his professional skills and learn new ones along the way. He also learned how to face challenges efficiently and through a more positive lens. For Roberto, working for Everise has been a completely fulfilling experience that gave him different perspectives on work and life in general.
So it's been a complete learning experience, of course, I was able to enhance my skills with what Everise has offered in terms of not only providing me a view of how I can do things in a more efficient way but also in teaching me how to approach the different challenges with a positive mentality.
When asked about how Everise continues to evolve the workplace, Roberto reiterates the importance of Everise's core values in ensuring that our decisions will benefit our people. Roberto shares the belief that our success as a company is linked to our people's satisfaction.
One of the main priorities became being a people-first company, so we have evolved towards ensuring that the main piece of the puzzle, which is our people, is satisfied with how we do things, and that gives us the right results.
Roberto ends the interview by sharing how Guatemala's servicing culture plays an important role in empowering our Guatemalan Champions for success. Roberto believes that Guatemala's hospitality is embedded in their culture, and it aligns well with our company values, enabling us to provide great customer experiences from Guatemala to anywhere across the globe.
One item that aligns perfectly with the expectations of our partners is the fact that we have created a servicing culture, most of our partners expect world-class service, and Guatemalan culture is oriented into always being able to lend a hand, and our Champions are good at doing that.
At Everise, we ensure that we put the spotlight on the people behind our success. That's why we are featuring employees from different walks of life and shedding a little light on the people of Everise. Learn more about our Guatemala Experience Center and our people just like Roberto today!
Join us!
Related Posts: