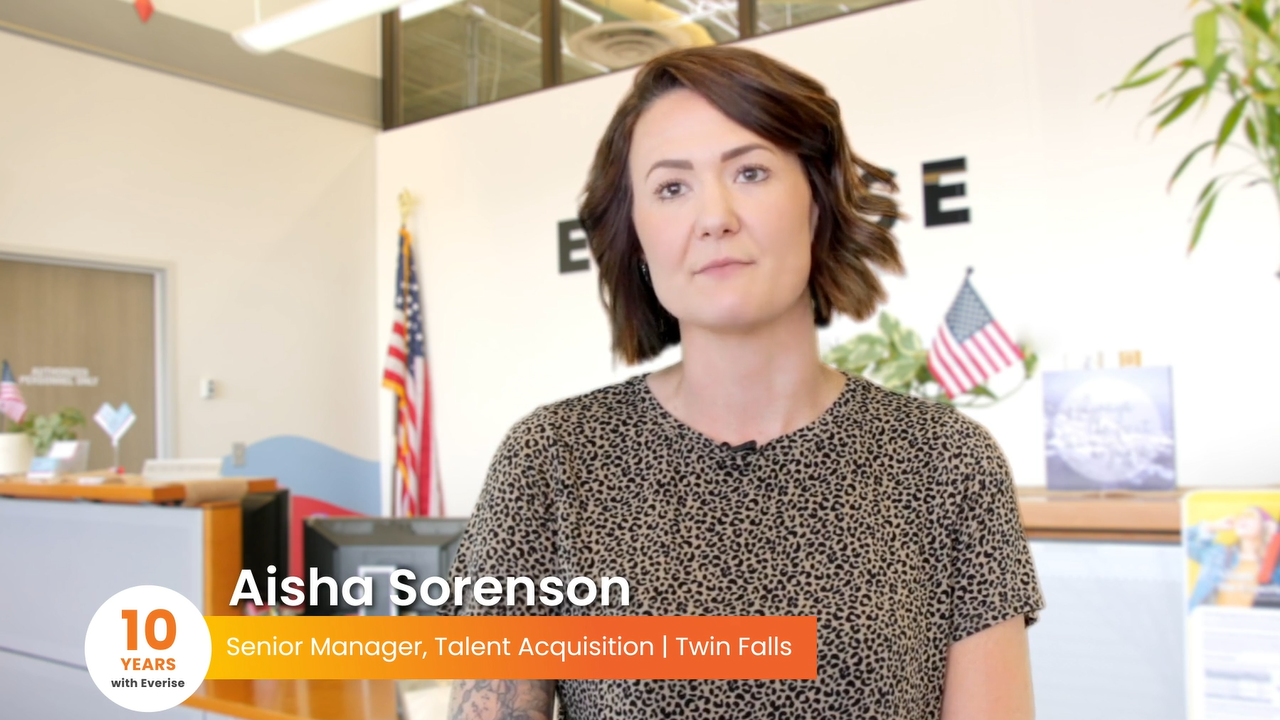 As a people-first company, the experiences of our Champions help shape our culture at Everise. Their stories inspire us in evolving and transforming our organization for the better. In this installment of our People of Everise Tenured Champions Edition, we're featuring Aisha Sorenson, Senior Manager of Talent Acquisition from Twin Falls!
Aisha began her Everise journey back in 2011, and she recently celebrated her 10th year with us! As one of the earliest members of our Everise family in Twin Falls, she has contributed to much of the development of our site in Everise Twin Falls, and she continues to inspire our Champions with her tenure.
In our interview with Aisha, she recalls her most memorable experiences and gives us a glimpse into her Everise journey and how our culture made a positive influence on her career throughout the years.
As a tenured Champion, Aisha established her career through hard work and perseverance. In her 10-year journey, she experienced personal and professional growth, and she witnessed our evolving culture firsthand. Aisha started out as a frontline agent, but she has since taken on several different positions, growing alongside the company and her fellow Champions. Now a Senior Manager for Talent Acquisition, Aisha leads our site in Twin Falls in acquiring potential Champions.
"A lot of our leadership has come from frontline agents and moved up in different positions throughout the organization, including myself. I started with Everise in 2011 as a frontline agent, customer service representative. I was able to move over to a program as a supervisor. And then from there, I moved into a supervisor training position and found myself in TA, which I enjoy immensely. And just recently, well, about a year and a half ago, I moved up to senior TA manager, where I'm able to not only handle the hiring for Twin Falls, but also for work at home."
Aside from her personal success, Aisha also credits the amazing leadership culture and supportive work environment within Everise as key factors for her career trajectory. She also shares how Everise's people-first culture and benefits help attract the right talent who are in for the long run and are most likely to stay with the company to become tenured Champions as well.
"Everise has been around for a long time and we have a lot of friends and family that refers, either they're currently working for us or they have worked for us in the past. We have competitive pay and benefits. Full-time is a huge thing in our area, and we do offer all full-time positions, which is great. And we also have the opportunity to promote from within."
Aisha ends our interview by sharing how the family-like atmosphere she experienced all throughout her career influenced her to stay with us. For Aisha, being supported by her fellow Champions who treated her as someone more than just a co-worker was vital for her growth, and has transformed her into who she is today.
"I think the biggest thing that stands out to me in the past 10 years working for Everise is the family-like atmosphere of Twin Falls. There's never been a time where I haven't felt like I was supported by my fellow teammates and departments. And whenever I've needed help, they've been there one hundred percent to help me. And I think that in an employer, that's something that's very important to me.
At Everise, we ensure that we put the spotlight on the people behind our success. That's why we are featuring employees from different walks of life and shedding a little light on the people of Everise. Learn more about our Twin Falls Center and our people just like Aisha today!
Related Posts: