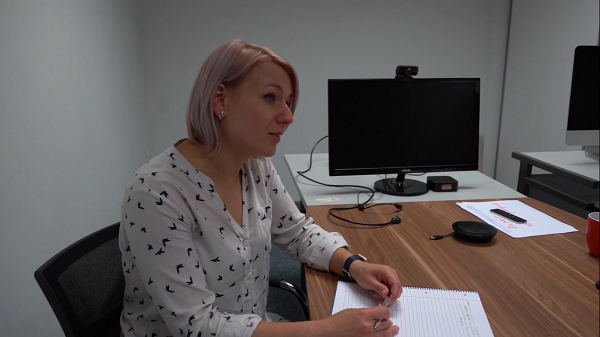 Limerick is known for being Ireland's first National City of Culture, and the country's third-largest city. It is also known as a sophisticated and cosmopolitan city, home to warm and welcoming people such as Maja Wilk, a Supervisor from our Limerick Experience Center. She shares with us a glimpse into her personal life and what it's like to live in Limerick.
Living in one of Ireland's largest cities, one would expect bustling streets and overcrowded shops, but for Maja, daily life in Limerick is calm and quiet. The serene atmosphere surrounding the city, coupled with the kind people in her town, makes for a peaceful setting that she's grown fond of over the years.
In here, everything is quiet so it's very easy. The people are nice. When you go to a shop, everybody is smiling. When you buy something, you expect to wait to pay and it takes so long, but no, it's completely chill so it's very relaxing, and I think that's the nicest thing.
Outside of work, Maja enjoys reading and spending time with her family and their dog. She also enjoys watching Asian series such as Korean dramas after a long day. Maja shares how the storytelling of these shows serve as a reminder to enjoy life, and that everything will be alright in the end.
I like reading. I like to spend time with my son, my dog, and my husband. I love to watch Asian series. There's a lot of drama first, then everything goes bad and after that everything is fine. You watch it, and you don't have to think about anything. You go in this thinking everything will be fine, and nothing will happen.
Maja also shares how she bonds with her team and co-workers through long walks and spending time together. She finds purpose in helping and providing support for others as their Supervisor. For Maja, seeing them grow is what makes her job all the more fulfilling.
I love to walk with people and I have a great team so I like to spend time with them, I like to meet with them thoroughly. I think my job is mostly about helping them, support them that they have time to do the job as best as possible, and that's the nicest thing. So if you have a team that engages and are happy together, that's really nice.
Maja's ability to connect with others by sharing her experiences about the little wonders of everyday life has helped her fulfill her role and become a better person. We are happy to have her as part of the Everise family.
At Everise, we ensure that we put the spotlight on the people behind our success. That's why we are featuring employees from different walks of life and shedding a little light on the people of Everise. Learn more about our Limerick Experience Center and our people just like Maja today!
Join us!
Related Posts: