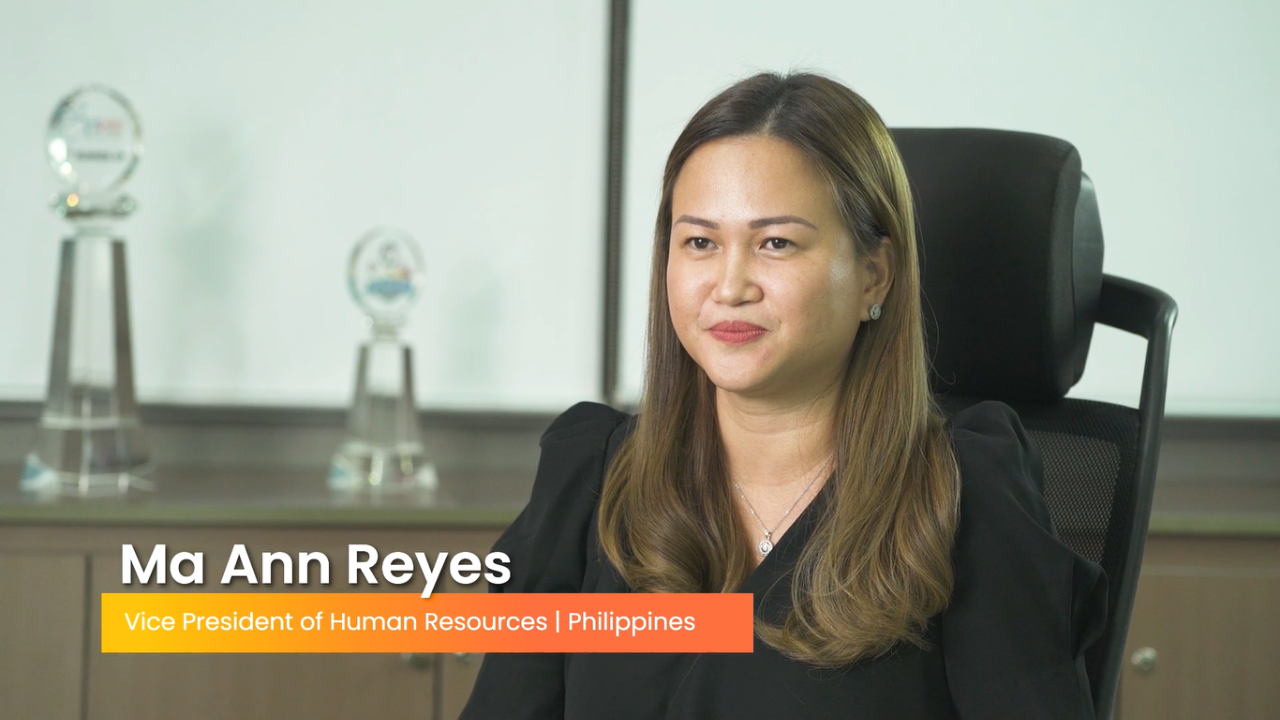 In this installment of People of Everise Leadership Edition, we're featuring Ma Ann Reyes, Vice President of Human Resources for Everise Philippines! As one of our leaders in Human Resources, Ma Ann is responsible for evolving our company culture by setting and evaluating the HR policies, procedures, and best practices within our Experience Center in the Philippines.
In our interview with Ma Ann, she gives insight into her personal life outside of work, her favorite part of working with Everise, and how she implements our people-first culture in managing our Champions.
Apart from her role in Everise, Ma Ann is a proud mother and a nature lover. She spends most of her spare time taking care of her family and taking part in outdoor activities that help her connect with nature and her surroundings.
"I'm a very proud mom of two beautiful children, devoted wife to an amazing husband, a generous daughter, sister, and a loyal but super frank friend. I love nature - the waves, the sun, trees, mountains - and I do everything as much as I can to be as close to nature as whenever I have free time."
As VP of Human Resources, Ma Ann's role allows her to transform the lives of our Champions by implementing changes that can positively impact their careers. For Ma Ann, helping our Champions succeed is one of the most rewarding experiences as a leader and member of our Everise family.
"The best part of it is that it has the capacity to allow changes that are needed to happen, happen. It's very rewarding to be able to impact people's lives in as much as you can through your job."
One of the ways that Everise Philippines takes part in activities that give back and support local communities is through our Everise Cares initiative, where we reach out to beneficiaries and drive donation campaigns to provide for communities in need. Ma Ann explains the people-first ideology behind it and how she and her team assesses a certain community's needs, and how we can best provide them.
""It's not like we decide, OK, let's do a fundraising activity and buy groceries for everyone - it's not like that. It's going out there and listening to what's needed. Is it really food? Is it school supplies? What does the community need from us? And from there we decide, OK, this is what we're going to be doing. And we ask as much support as we can from our own people so we're able to assist the nearby communities as much as we can."

Ma Ann closes out our interview by sharing her personal philosophy on managing talent. Ma Ann believes that in order to manage people properly, leaders should get to know them on a deeper level to have a better understanding of their needs and wants in order for them to become outstanding employees and evolve in their roles.
"It's not a one-size-fits-all kind of thing. You cannot have one style of leadership for one of your direct reports and supply it to everybody else. The key here really is getting to know your people better, what motivates them, what makes them come to work, what inspires them, what ticks them off. And when you know each of your people well enough to know how to drive the best results out of them, you know that you're being able to do your job well as a leader."
At Everise, we ensure that we put the spotlight on the people behind our success. That's why we are featuring employees from different walks of life and shedding a little light on the people of Everise. Learn more about our Experience Center in the Philippines and our people just like Ma Ann today!
Related Posts: