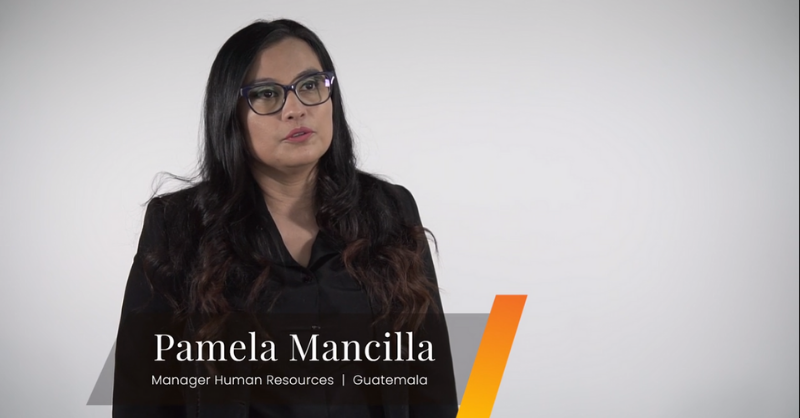 Meet Pamela Mancilla, HR Manager for Everise Guatemala. For Pam, working in the field of Human Resources meant having a better understanding of the needs of everyone around her. She understood the importance of keeping Everisers happy and establishing a culture that puts people first - a responsibility that she happily fulfills as part of her role.
"When you have this kind of job, you go for your people, right? One of our values is People-first, and for us it's very important to have our employees happy and well-established in the company."
A secret that not many people know about Pam is that she has a love for pineapples. When she was 17 years old, she came up with her own life philosophy about them, relating their different varieties to our situations in life. Pam's personal ideology is something that helps her keep up with daily life and lets her know that at the end of the day, things can always get better.
"Something that not a lot of people know about me is that I love pineapples. I have this life philosophy around them, that I came up with when I was 17 years old. Like pineapples are bitter, sweet – it depends, right? But in the end, you can put something on and you can always eat them, so it's like life. You live bitter situations, sad situations, and sweet situations."
Pam witnessed the growth of our Everise family in Guatemala first-hand, meeting people that contributed to her career growth along the way. She claims that working for Everise has helped her progress in her personal and professional life, having met fellow Everisers that helped her improve as a Manager and as a person. Through her hard work and earnest efforts, Pam was also able to buy a house in the city – a personal goal that she has had for a long time.
"When I joined the company, our head count was at 400 people, and now we have 1,600. I was able to meet a lot of people in my growth during these years. Fantastic people, great people. I have been able to work with them, and I think it's a personal growth too. In my personal life, I was able to buy a house here in the city, and that was a goal that I had a long time ago.
When asked about her experience of working in Everise, Pam shares how most of the people she met enjoy the company culture. She also shares how the traditions and customs in Guatemala help them adapt to different cultures as well. Pam believes that their diversity and adaptability play an important part in their collective success.
"Most of our people talk about how they enjoy working here, we also have this culture in Guatemala as Americans. We have a lot of people traveling to the U.S. and a lot of people leaving the U.S. and coming back to Guatemala, I think it's easy for us to adapt to different cultures, and that's probably the success that we have."
At Everise, we ensure that we put the spotlight on the people behind our success. That's why we are featuring employees from different walks of life and shedding a little light on the people of Everise. Learn more about our Guatemala Experience Center and our people just like Pam today!
Join us!
Related Posts: