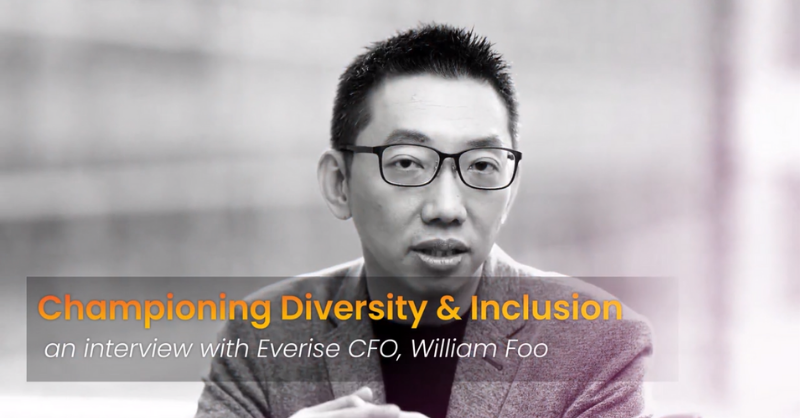 At Everise, we believe that embracing a progressive and inclusive company culture is the key to our success. Our purpose-led values of being people-first, celebrating diversity, and incubating innovation helped us to create our own culture - one that promotes inclusion and growth for our entire organization.
Our Championing Diversity & Inclusion series features our Everise leadership team as they discuss how we continue to challenge traditional workplace paradigms and promote an inclusive work environment.

We sat down for an interview with Everise Chief Financial Officer, William Foo, to discuss the importance of diversity and inclusion and why they're essential to our success. Will also shared his journey to becoming Everise's CFO, how Everise responded to the COVID crisis and his insights on current and future trends in the industry.
Q: Why is diversity and inclusion important, not just ethically, but from a business point of view?
A: Here at Everise, we believe no one gender has a monopoly of knowledge. Everyone has a part to play, and everyone contributes something different. I believe that for a business to function and really move forward, we need a diversity of ideas. To fully maximize the benefits of our people from different cultures, different backgrounds, different genders, we believe that including them in the decision-making process is critical. This allows us to maximize the ability of our people and maximize the wealth of ideas and knowledge so we can move forward as a business.
Q: Why is Celebrating Diversity and Inclusion a core part of Everise's strategy?
A: Everise is a people-first company. We value people; they always come first in all decisions that we take. Every decision that we make takes into account all of our people. So for us, I think it's very important that we place people of different cultures, different genders coming together - those I think are key parts of how we make decisions and move Everise forward.


Q: How or why did you decide to get into finance?
A: I've always been good in mathematics and accounting, so finance was a natural extension of that. After I graduated from college with an accounting degree, I decided to get into the accounting line. And I enjoyed it. I enjoyed working with numbers and making decisions with numbers and it kind of just continued on.
Q: Over the past two decades, how would you say that the finance industry has evolved?
A: The accounting industry as a whole has gone from being backward-looking to forward-looking. I think that's critical because right now, we're not just talking about what happened in the past but more of, "how can I predict the future?". The ability to predict helps businesses make decisions quicker, faster, and better.
Q: Given the rapid change from COVID, how do you see the finance industry continuing to evolve beyond it?
A: COVID has radically changed the way we do businesses, finance and accounting - even before COVID – were already trying to digitalize, trying to transform itself. I think that change and transformation have been accelerated because of COVID. Right now, I think digital tools using AI, using machine learning - those are key topics that the finance industry generally has not really evolved and embraced but are now forced to embrace because of COVID. So I think that digital transformation will eventually happen in the finance industry as well.
Q: How has Everise fared during the COVID-19 crisis to date? What has been the most tangible impacts and challenges?
A: I think if you compare ourselves to many of our peers in the industry, we've done really, really well. We've grown 30 percent organically even during the COVID year, which is unheard of in this industry. We've been able to meet the challenges head-on. It was a tough struggle, to be honest, especially when COVID just hit. The logistical challenges of bringing our people from the office to at home were a nightmare, but we pulled through it. I think we did really, really well - both from a result standpoint as well as for future growth.
Q: What is the core value you bring to the organization as CFO and why?
A: Well, the finance function is always known for integrity, so I feel what I bring is integrity. I think a lot of our decisions in Everise are being driven from data, and finance provides most of that data is important for us to bring the right data on a timely basis quickly to the stakeholders so that we can make a decision. I think that is the most value that we can give.
Q: What is one tip you'd give to a junior finance or accounting executive who has ambitions in becoming a CFO like yourself?
A: I would say there are two things I would like to say to anyone who considers this for a career. Number one is to always be willing to accept challenges head on. Expand your horizon is what I would say to any person. Don't just be fixated on any particular aspect of finance but do a range of things. Don't just get caught up in a square box. I think the main thing is to embrace challenges, take it as a learning curve. Second thing I would say is always have grit. Don't forget that people have gone through challenges before and turned out better, so always have the determination and grit to finish the race.
Q: What is your favorite part about being a CFO?
A: Seeing the tangible impact that I have on the company. The ability to use the financial data is within my disposal, the ability to see decisions being taken because of those data, and the ability to see those decisions leading to a tangible benefit both our people and the business.
Q: What should investors know about the BPO industry today?

A: I think one thing that investors don't know is that the BPO industry now is fundamentally and radically different from what it was 20 years ago. Some investors may still think it's about people on the phone chatting all day. I think that misconception about the BPO industry has to change. The BPO industry now is undergoing a transformation of its own. It started about decade back, and it's still continuing on.
Related Posts: