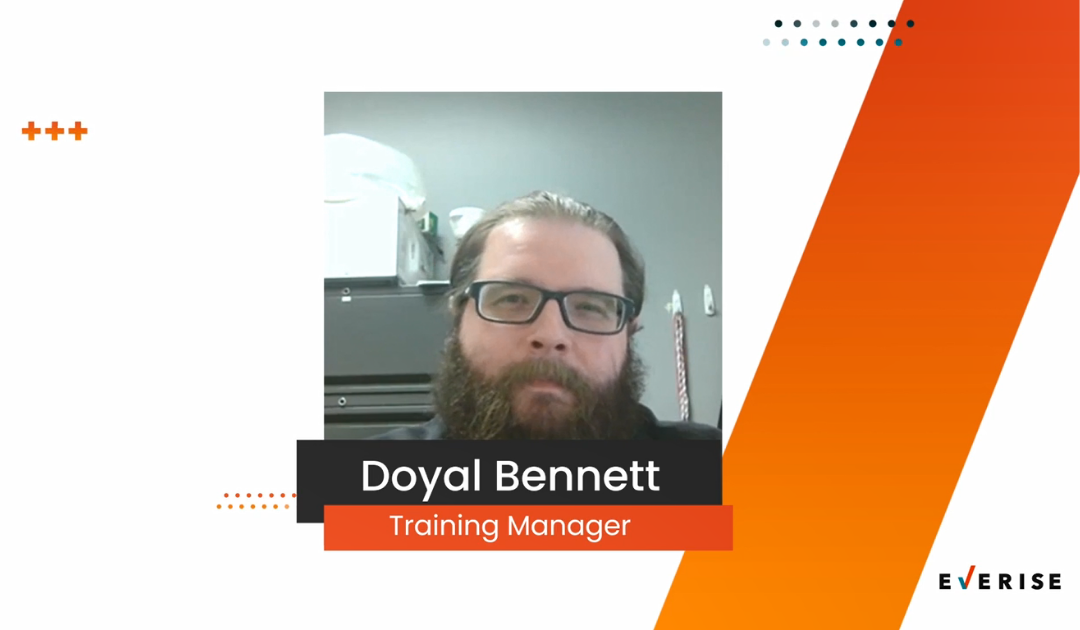 Meet Doyal Bennett, Training Manager from Twin Falls, Idaho. Doyal was featured in our People of Everise Series back in 2019, and this year marks his 10th anniversary of being part of the Everise family. In this episode of Live From Our Living Room, Doyal shares the best things about being a trainer for Everise and how he adapted to training people both in a brick-and-mortar and virtual training environment.
Doyal began his journey with Everise as a Quality Analyst. His natural people skills led to his promotion to becoming a Trainer within a month of his stay. During the span of his career, Doyal has trained around five to ten thousand people, equipping them with the skills they need to deliver world-class experiences. He shares how fulfilling it felt to bring out the best in them and see them grow every step of the way to become the best versions of themselves.
"It feels good to be able to kind of look at these trainers that they started off with either no experience or they have very little experience, but we were able to work on those things, develop them, and bring them out. And that's one of the reasons why we have some of the best trainers today."
As a Training Manager, Doyal has helped uplift our champions and develop their talents. He, along with other trainers, have also developed their skills in finding better ways to train other people while doing so. This cycle of growth and development between the trainees and the trainers has been a vital part of Doyal's work, and it is one that he never gets tired of experiencing.
"Getting that opportunity to help develop these guys to be better and to become more effective in their line of business, and me seeing the trainers using some of the different aspects and things that we've learned in training, or going over in development is really a pleasure to watch and see as they grow."
When the pandemic hit, it brought new challenges for people in the training sector. Doyal and his fellow trainers had to look for alternative ways to safely conduct training and produce the same, if not better, results. It brought new challenges for those who were used to training in a brick-and-mortar work environment but also gave way to new ideas for virtual training.
"It's been a new challenge with new and interesting fronts that we have to kind of work through and help work on. We actually get to try out and do different things, whereas what we call brick-and mortar-training, we had to go in, basically just you and the person face-to-face going through and dealing with everything."
The need for new training methods helped Doyal and his co-workers develop new ways to train people virtually. By adopting a blended mix of virtual and on-site training, they were able to adapt to the needs of a post-COVID market. This adaptability helped Everise grow and become more competitive while continuing to produce better talent that delivers world-class experiences.
"It helps make Everise a more fluid company in what today's market is looking for. So it allows us to actually grow and be more competitive against other people out there because we don't just train one way, we train two ways. And that just means if our clients want us to do it one way, we can do it that way. It doesn't matter if it's onsite or it's virtual."
At Everise, we ensure that we put the spotlight on the people behind our success. That's why we are featuring employees from different walks of life and shedding a little light on the people of Everise. Learn more about our award-winning culture and our people just like Doyal today!
Related Posts: