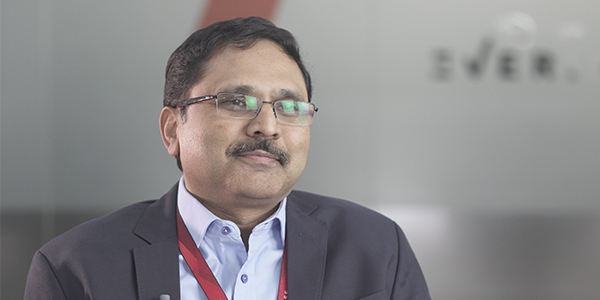 The ability to deliver result-driven strategies and goal-oriented outcomes is a valuable asset for incubating innovation in any industry. This month, we are featuring the leader responsible for Everise's overall Information Technology function. Meet Ganapathy Subramaniyan, Chief Information Officer for Everise. In this interview, he shares his technologically driven expertise and a glimpse into his personal life.
What advice would you give someone starting out in the IT/ BPO industry?
New entrants in the BPO industry should look for horizontal growth, rather than vertical growth at least for the first five to seven years.

Experience gained in the IT or BPO industry is incredibly valuable because you gain experience in multiple industries within a short period of time. You will come out as an transformed individual , a " king of all trades," which is not possible in other industries.

What were the challenges in adapting to a work-at-home environment?
Application performance and voice quality in an uncontrolled WAH environment were a cause of concern, apart from on-time capacity augmentation, when the migration of thousands of employees started with a short notice.

On a heterogenous IT setup, supporting multiple clients in a "one size fits all" approach doesn't work. We had to address each problem area with a specific solution to meet the business requirement both in terms of quality, on-time delivery and compliance.
What are some activities you enjoy doing when not working?
CIO networks help me get access to experiences and challenges shared by fellow peers from in the industry. I enjoy reading about new AI use cases and the applications it is adopted. I continuously am encouraged by the increased adoption of Artificial Intelligence.

Watching live cricket also keeps me busy on days when international tournaments are on. I login to my Amazon Kindle few times a month, use Blinkist and Booklet app to listen to books while travelling
What are some personal goals you've set for yourself this year?
Pushing the adoption of new technology in areas like Artificial Intelligence has been my passion. Making new technology work effectively for businesses across all verticals is what drives me.
What are some of the memorable personal experiences that you've had so far?
A new start in Manila has been a great experience. My first Christmas party here with the IT team will continue with me as a sweet memory. I have never been part of an organization that was so passionate.
If you could go back in time, what would you tell your 10-year-old self?
Life is not as easy or as difficult as it has been portrayed. If you excel at what you're good at, most challenges can be sorted out. Do not compromise on health if you want to enjoy your wealth later.
Ganapathy is one of the people behind Everise's award-winning culture. His fascination with digital transformation and passion for the industry makes him a valuable partner in our mission to continuously incubate innovation. Find out more about our disruptive leadership team and their experiences today.