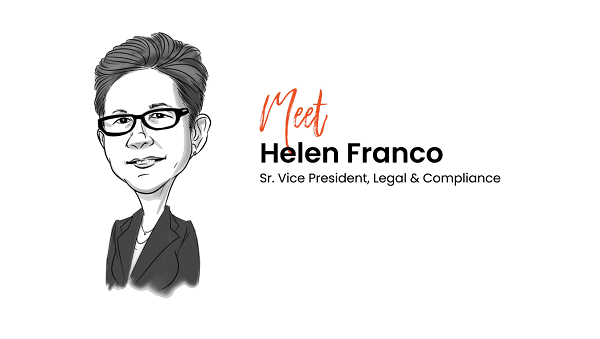 A disruptive business needs disruptive thinking, that's why we look into the experiences of our leaders and see what shaped them to be the person that they are today. For this month, we are featuring Helen Franco, Senior Vice President for Legal and Compliance. She shares some of the activities that she enjoys outside of her profession.
What are your favorite ballet performances? Why is about ballet that you enjoy?
I don't have any favorites; I love them all, though I prefer those that tell a story. It transports me with the music and the fluidity of movement.

Besides ballet, what other cultural performances do you like to watch?
I'm a fan of live theater performances, though not so much musicals. I like seeing dramas acted out on stage.

Is there anything that you would still like to do in your lifetime?
Though I've traveled extensively in Europe, my dream is to have the time and the means to thoroughly explore the far east.

What would you like to say to aspiring lawyers out there?
It's not a profession for the weak-hearted! The profession requires patience and the ability to follow through on whatever task is assigned whenever it's assigned and by whom.

You are celebrating your 9th year anniversary at Everise. How has Everise changed your life?
My experience at Everise has been at times frustrating and at times fulfilling. I've enjoyed watching the company change and grow and have gotten a great deal of satisfaction from the fact that in some small part I helped get it to where it is today – an exciting place to work with a truly global outlook and culture.
Each and everyone's experiences are important in shaping who we are and how we make decisions. Find out more about our animated team and their experiences today.