It's been an eventful year and many unforeseen changes are now shaping the future of how we will work and function as a society. Uncertain market conditions have accelerated the adoption of intelligent tools that can ensure business and social continuity. One of these tools is Artificial Intelligence(AI), which is proving to be the champion that can provide dependable solutions to a post-pandemic world. By enabling us to improve how we work and automating robotic tasks, this smart technology is transforming different industries in profound ways.
Healthcare is one such industry currently being revolutionized by AI to support the development and deployment of machines that can predict, understand, learn, and act to provide us care. From automating consultations and routine tasks in medical practices to managing patients and medical resources, AI is making healthcare more intelligent and accessible in these four key areas.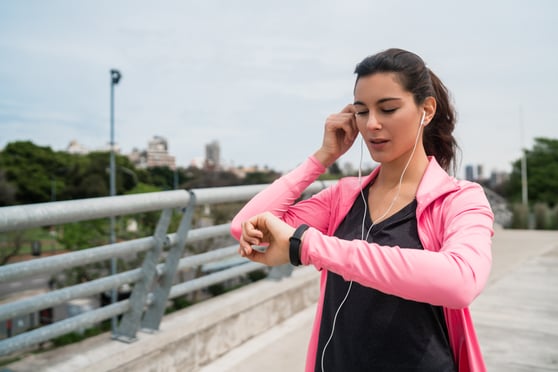 1) Health Tracking
Fitness applications have taken the world by storm, enabling people to take a more proactive approach in managing their physical and mental health. From tracking calories, logging workouts to mindfulness reminders, more people have access to these tools. Combining this technology with AI and sensor-based tools, such as wearables and smart devices, enables fitness to be offered as a gamified experience.
Understanding each user at a personal level, and then providing an experience that best suits their schedules, creates an environment that promotes health through improved fitness. By collecting data on your sleep patterns, daily steps and heart rate, fitness apps promote a healthier lifestyle and alert users when they experience irregular patterns by helping them realign with their health goals.
2) Medical Analytics
Elevating healthcare requires the consolidation of various data points within the Internet of Medical Things (IoMT). AI offers the ability to use that data to deliver predictive analytics that can support medical decisions.
For example, when the data collected by fitness apps, is shared within the IoMT, and Doctors have access to that data, they have far more information to use when creating a treatment plan for a patient. But that's on an individual level. When conducting a clinical study, these sensor-based tools offer more precise data collection that better informs research and produces better results.
Using pattern recognition, IoMT can also help identify patients at risk of developing certain conditions. Cardiogram is a company building a personal healthcare assistant that notifies people who are at risk of getting a stroke, to get checked. They do this by connecting with personal wearable devices helping people identify risks for diabetes, hypertension, sleep apnea and more.
3) Elder Care
Longer lifespans and increased exposure to technology means eldercare is being infused with intelligent tools to support physical, emotional, social and mental health. The proliferation of mobile devices is playing a central role in ensuring older people stay healthy and connected. Through the use of AI-powered medical assistants, doctors can engage with patients, while tracking medication intake and physical activity.
The most invaluable benefit of these virtual assistants (VA) is that they afford elder patients their independence. Chatbots help facilitate seamless information sharing with a patient's family so they are up to date and can ask follow up questions. When patients need to go for a "physical check-up", VAs can link to transport services and help patients find the smoothest hassle-free way to get to a doctor and back.
"Smart home devices keep us connected to the outside world hands free. We can do more with just our voices now than ever before, which makes independent living for seniors safer and easier," Peter Butler shared with Parks Associates leading up to their annual Connections Summit. "For example, offering an AI-powered "companion" able to operate 24/7 while intelligently integrating with wearables and telehealth support can give our vulnerable elderly a new degree of much deserved independence, dignity and safety while providing their loved ones with peace of mind."
Connectivity means families that are far apart can be in contact more easily. The pandemic has taught us that we are capable of using technology to help form a sense of community over long distances. As more and more industries automate, the convergence of data will soon allow patients to manage health related needs through a single interface, much like e-commerce platforms do for buying goods.
4) Contactless Care
Contactless care has never been more necessary than today. Due to COVID-19, people are not getting access to the care they need. This has sparked innovation in this area. Kiosks similar to ones you might see in a McDonalds are now deployed in hospitals to allow patients to self-check-in. Contactless payment systems enable patients to check out effortlessly. All these solutions save staff hours for more pressing work and reduce patient contact at every touchpoint.
Beyond physical care, telehealth can provide access to a larger population of people creating a healthier community. This solution solves an immediate health concern to COVID-19. But moving forward, Telehealth will become more mainstream. It establishes fast responses to any situation potentially saving more lives by providing on-demand virtual urgent care. Telehealth will also create a market where people can have more regular check-ups. By doing consultations virtually, it reduces the time commitment needed to go to a clinic. "Physical Check-ups" will still be necessary but at a lower frequency.
Healthcare in the next decade
AI's influence on healthcare is boundless. Beyond these areas, AI is assisting in developing robotic tools that aid doctors in performing more complex surgeries and procedures, allowing for more precise results at a lower physical cost to the patient.
Everise uses our deep healthcare domain expertise and our digital experience to help our partners leverage artificial intelligence to both reduce costs and achieve higher customer satisfaction. For more ways to infuse healthcare with AI, get in touch with our team from Everise DX.
Related Insights: