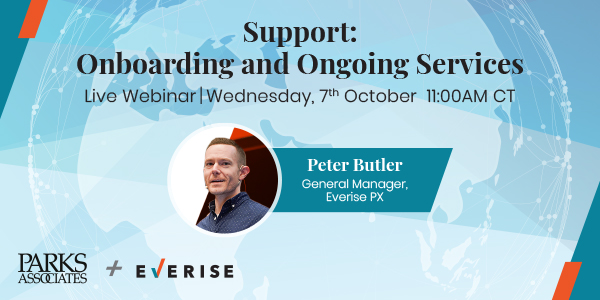 Everise is taking part in this year's CONNECTIONS™: The Premier Connected Home Conference, organized by the Parks Associates'. The online conference focuses on the connected home and IoT industries and feature Everise General Manager and Systematic Insights® lead, Peter Butler, who will speak at the event on October 7, 2020, during the session, Support: Onboarding and Ongoing Services.
Before speaking for the event, Peter shared a conversation with Parks Associates and answered questions about the impact of the current global pandemic on the smart home industry and shared his thoughts on emerging technologies.
What do you anticipate the impact of Covid-19 to be for the smart home industry, in the short term and long term?
The pandemic imposed lifestyle changes that immediately applied pressure to the smart devices industry. For example, demand for home interior monitoring products, like nanny and pet cams, is down, while demand for exterior monitoring devices, like connected doorbells, is up. These shifts reflect the reality of an interior that is rarely unoccupied coupled with exteriors much more frequently subject to product and food deliveries.
As expected, increased time spent at home coupled with the closure of cinema and sporting venues has pushed entertainment-focused smart devices into a much more prominent place. Notably, Google's Nest Hub added new games and Netflix streaming ability.
These changes are probably obvious enough, but something you might not have considered is the need to endow home-based work with the same level of data security inherent to centralized workplaces. This has sparked a need for smart monitoring able to programmatically prevent unauthorized actions – such as manually capturing on-screen data or allowing unauthorized individuals (often residents of the same home where the work is being done) from glimpsing such info. Everise's Smart Secure solution is how we use remote worker monitoring to keep personal health and financial information secure in home office settings.
As the number of connected devices in consumers' lives increase each year, what solutions need to be created to allay rising consumer concerns around data security and privacy?
In this area, transparency is key. Consumers shouldn't have to wonder what information about them is being collected. It is the responsibility of the provider to share with consumers what data is gathered and how it is used so the consumer can make an educated decision about which products they use in their homes. Users should feel like their relationship to smart devices is more of a two-way partnership than the one way arrangements so long in place.
With the rollout of 5G technologies nearing, what impact will this technology have on connected consumers?
Obviously, 5G will primarily influence the degree to which mobile apps come to offer truly credible alternatives to desktop computers and wifi-connected tablets – particularly when it comes to entertainment and gaming. Additionally, mobile telephony provides a crucial backup for many connected devices, most notably home monitoring and security systems.
As these connections become increasingly fast, stable and reliable on 5G networks, so too will consumer adoption and the kind of inter-system connections – such as those uniting smart thermostats and irrigation controls to security systems — that makes all of these products much stickier and more deeply integrated into users' lives.
As the smart home experience expands outside the home, how will the role of the car evolve as part of the smart home ecosystem?
What was fairly recently an exotic feature – mobile connected automobiles – has recently become a standard option in most new cars, with control of smart home services integrated into the automobile console in ways that respond to voice commands or are especially easy and safe to control while driving. Thus, cars become extensions of our homes and this provides yet another layer of stickiness binding users to their smart home devices.
What is necessary to build a seamless smart home experience that crosses brands, platforms, and ecosystems?
This is a sector desperately in need of a common language able to make broader interoperability the rule, not the exception. I, along with many others, am anxiously anticipating the release of the CHIP standard being produced by Amazon, Apple, Google and Zigbee, because it promises to provide the technological lingua franca that will make this hope a reality.
What impact will emerging technologies like AI, machine learning, and blockchain have on the smart home? What are the associated challenges with implementing these technologies in the home?
The primary application of blockchain in the smart home will be secure, unhackable identity – of both users and devices – and as a vehicle for micro-transactions able to greatly expand the range of viable revenue models available to aspiring innovators. Blockchain is a technology key to expanding the smart home ecosystem.
AI and machine learning aspire to simplify our lives by making devices behave in recognizably human ways. The main challenge afflicting this technology is the tendency to focus more on the bits and bytes and less on the consumer. Innovators that seamlessly blend human and machine intelligence will emerge the winners.
How will service providers adapt to the "new normal"?
It has been interesting to see how so many industries have been forced to make the shift to working from home feasible. The physical and digital protection of proprietary data is still as important as ever, and passing this data through our home internet connections has increased the need for high-bandwidth internet and strong digital safeguards.
Now that we've seen how working from home can be done effectively, we can expect the option to continue in the long term, making it more important than ever for internet service providers to increase the footprint of their high-speed coverage areas, and often for local municipalities to incentivize this, lest citizens migrate away from areas unable to support the data speed and reliability requirements of their professions.
What innovations have you seen that will address the existing needs of the elderly to enable independent living in the smart home?
Smart home devices keep us connected to the outside world hands free. We can do more with just our voices now than ever before, which makes independent living for seniors safer and easier. For example, offering an AI-powered "companion" able to operate 24/7 while intelligently integrating with wearables and telehealth support can give our vulnerable elderly a new degree of much deserved independence, dignity and safety while providing their loved ones with peace of mind.
How will the continued rise of DIY security expand the smart home? What challenges will DIY players face in 2020 and beyond?
I'm a huge fan of DIY security. These days, DIY security has become so widely accepted that there is essentially never an event in my neighborhood that is not captured on video from multiple angles. Knowing in an instant via mobile alert if there is a security event at my home, and being able to see and respond to what's happening in real time, is game-changing and will continue to gain the support of property owners as well as law enforcement.
What is lacking is higher-definition video - specifically, the ability to recognize and capture license plate numbers and more facial detail. Among the thorny social ramifications of this technology will be a shift in criminal behavior from areas that can afford these technologies to those that can't. I'm sure this is a subject that will be extensively discussed by sociologists and criminologists in years to come.
Visit our events page to learn more about CONNECTIONS™: The Premier Connected Home Conference and other upcoming Everise events.
Related Insights: