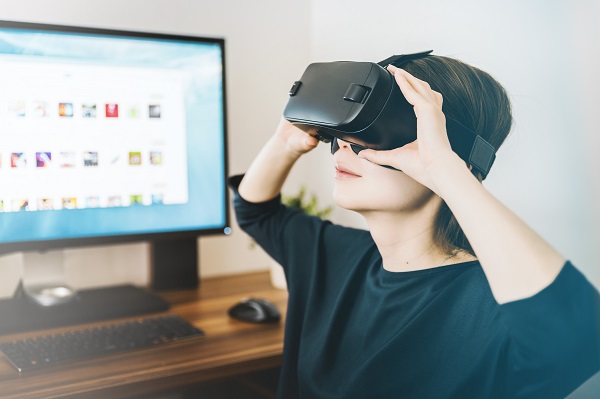 The onset of Covid-19 has resulted in a massive paradigm shift in how people live their lives worldwide. This shift has caused many people, businesses and governments to rethink and relook how we work, communicate and more. Some of the changes have been devastating, but it has also given rise to unexpected opportunities. Find out which digital experience trends have the most room for growth in a post-coronavirus world.
Social distancing has caused social gatherings, work meetings and events the world over to be cancelled. Numerous sporting leagues have had to suspend entire seasons, and entire industries have had to immediately adapt to managing a virtual workforce.
As an increasing number of people are going digital to keep connected and community spirits up new trends are emerging and reemerging. Here are ten (mostly) digital experience trends that are emerging and have the potential to flourish in a post-coronavirus society:
1. Virtual Travel Experiences
Virtual Reality, currently struggling to get out of Gartner's Trough of Disillusionment, could be making a comeback to replace our lust for travel. Ubisoft released a free in-game update for their game Assassin's Creed Origins, which allowed owners of the game to access Discovery Tour mode. In this mode, players can travel around the game's world (which is set in ancient Egypt), and visit locations such as Alexandria, Memphis, and Giza. The mode also features guided tours, allowing players to learn about the Great Pyramids, daily life in ancient Egypt, and the reign of Cleopatra.
2. Shopstreaming
Ecommerce has a projected 19 percent growth rate for 2020, which will bring total ecommerce sales worldwide to $4.206 trillion. In April of 2019, China-based online shopping site Taobao allowed farmers from across the country to host their own livestreams in order to boost income. The initiative hopes to increase their earnings by around RMB 10,000 (USD $1,487) a month by promoting their hard-to-sell products. A similar scheme was watched by over 400 million people in 2018. Taobao also plans to launch a series of television shows around the topic.
3. Burnout Coping Mechanisms
Long before coronavirus, think tanks we researching the impact of remote work. One study, ""Doing More with Less? Flexible Working Practices and the Intensification of Work", examines the unanticipated consequences of work-at-home. According to the social exchange theory, researchers suggest, "employees respond to the ability to work remotely by exerting additional effort, in order to return benefit to their employer."
As a result, companies are developing new ways to provide coping mechanisms for customers at home. The Moxy NYC Chelsea, owned by Marriott, announced in April 2019 that guests will have access to exclusive ASMR (Autonomous Sensory Meridian Response) videos in their rooms. The videos, which are part of the hotel's Bedtime Stories program, were co-created with ASMR experience providers Whisperlodge and feature performers using and interacting with a variety of different props to provide guests with a so-called "mental massage" after a long day.
4. Virtual Companions
Feeling isolated at home, people are seeking out virtual personalities that have the power to entertain, educate, befriend, and heal. In January of 2020, Samsung introduced Neon, virtual beings that look and behave like us and can demonstrate emotion and intelligence. The avatars, which were unveiled at CES this year, are intended to work alongside people, sharing experiences and teaching skills rather than simply supplying data and information.
5. M2P (Mentor to Protégé) Experiences
One of the most productive ways to spend time in quarantine and combat isolation is to learn from people around the world. For example, Cookery equipment brand Equal Parts offers customers access to pro tips through Text a Chef. People can text in to receive cooking tips, inspiration, and meal ideas.
Meanwhile, language learning platform Duolingo recently partnered with video game live-streaming platform Twitch to launch the Duolingo Verified Streamer program in July 2019. The 12 multilingual streamers are part of Duolingo's Global Ambassador program, and while not language experts or teachers, each is multilingual or learning a second language. They offer streams in Twitch chat on various topics, allowing viewers to practice their chosen language.
6. SOLOMO Apps
With social isolation suddenly becoming the norm for most citizens in the society, it's no surprise that there has been a boost in usage of apps that connect us with both our local and global friends.
Apps such as Houseparty allows up to eight people to share the same chat and join in uninvited between mutual friends' conversations. While issues of privacy have surfaced, it has led to some serendipitous virtual encounters with online celebrities and members of the royal family.
7. Virtual Dating
Self quarantine hasn't stopped people from socializing, in fact, it only made them search for more dating alternatives. Numerous dating apps have emerged due to the demand for social interactions such as the dating app named "Quarantine Together". There were about 200 sign-ups when it was first launched and that number has continued to grow by 50% each day since then according to its developers. Users of the app echo the sentiment of searching for love and affection despite being in quarantine. Other existing dating apps such as Tinder have incorporated WHO guidelines on social distancing in their apps for their users. Despite advising their users to not meet in person, the app noticed a sharp increase in usage just after weeks into the quarantine period.
8. Ambient Home Wellness
As people spend more time in their homes, we are becoming more conscious the quality of the space we live, play, work, eat, and exercise. This trend could make its way into homes as a result of new retail innovations. In June of 2018, Stella McCartney opened a flagship London store which featured an innovative new air filtration system, which removes 95 percent of all airborne pollutants and traffic fumes. The clean air flagship store is designed to raise awareness of the problem of air pollution, and could be an attractive proposition to people breathing the same air at home all day.
Some smart home hubs have recently developed new ways to improve home wellness. Amazon's Alexa assistant was recently announced with a new feature that offers advice based from CDC (Center for Disease Control) guidelines for people who are worried about having contracted the coronavirus.
9. Touchless Technology
Before the risk of spreading the coronavirus was realized, many people didn't think twice about signing their name on a store payment screen at checkout, or touching a door handle on the way out of the office. Communal surfaces are now seen as potential sources of contagion, leading consumers to rethink multiple public behaviors ranging from the way they pay for goods to the way they flush toilets. Covid-19 and other viruses can spread through contact with shared surfaces, despite the uncertainty of knowing how long the new coronavirus survives on screens, metal or other materials. Due to the virus's accelerated spread, companies that make hands-free products will most likely witness a jump in inquiries and sales
In June of 2019, Domino's Pizza and robotics company Nuro announced the launch of a pilot initiative where a fleet of driverless robot cars will deliver pizza to customers in Houston, Texas. The deliveries are carried out by Nuro's R1 vehicle, which is roughly half the width of a compact sedan and does not allow for a human driver. The vehicles are being monitored by remote technology and human drivers in chase vehicles. This technology could soon be used to help delivery companies continue to scale.


10. Pushing the Internet to the Limits
The coronavirus has caused one of the largest shifts in the modern industry landscape. In doing so we are testing the limits of our digital infrastructure. In all, 42 million Americans, about 29% of the US workforce, are able to work from home. And as these drastic changes put stress on the world, they are also putting stress on the networks that support work-at-home.
"The weak link in the chain, where the system could get overloaded, is going to be the home broadband network," said Lisa Pierce, a network expert with Gartner. "People will hit congestion, just like a highway, where the speed goes from 60 miles an hour to 20. "We're in a far better place than we were five or 10 years ago, in terms of network preparedness," Pierce added. – Bloomberg
Digital trends will continue to evolve and further advances in technology will most likely create additional opportunities for other trends to emerge. The window of opportunity is now for brands to capitalise on these trends as we all adapt to a new normal.
Related Posts: