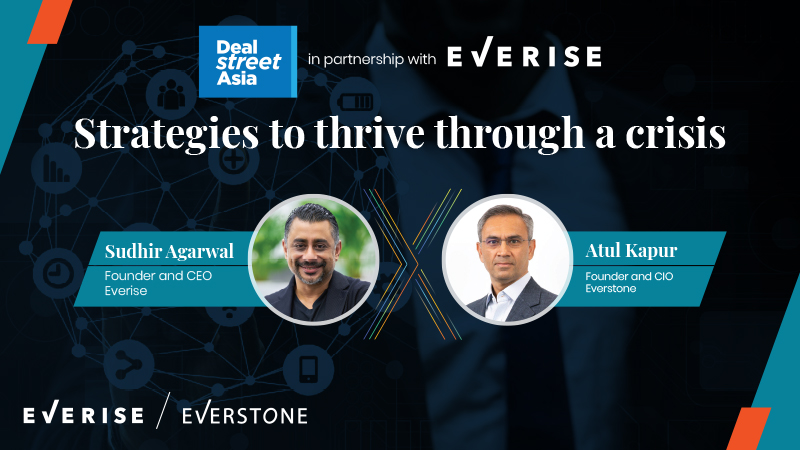 Businesses of all sizes were greatly affected by the effects caused by the COVID-19 pandemic. The structure of the economy drastically changed within a matter of months, and even well-established companies had to re-evaluate their strategies to survive within an uncertain business environment.
Finding growth during unprecedented times has become a challenge across all industries worldwide. While some companies are barely managing to stay afloat, others were able to find opportunities to thrive within a crisis by adapting to the disruption caused by COVID-19.
On 27 August 2020, DealStreetAsia hosted an exclusive conversation between Sudhir Agarwal, Founder and CEO of Everise, and Atul Kapur, Founder and CIO of Everstone Group where they shared insights into weathering the COVID-19 crisis and capitalizing on the remote work boom.
Key Takeaways
from the webinar:
1. Plans are useless, but planning is invaluable
We started to experiment with work from home before news of the pandemic even began to circulate. As the pandemic hit, the preparation needed to transition our people in secure work-at-home environments was easier since our systems were already in place.


2. Invest in new technologies
Investing in new technologies allows companies to stay ahead of technology trends and provide them with more options to adapt swiftly to changes in the work landscape. Our entire technology architecture was already in the cloud, and it enabled us to work remotely with our people.



3. Adapt to local needs and regulations
Transitioning to work-at-home is a different challenge for each site. By learning from the best practices from our sites across the globe, we were able to move the equipment of our people into their homes globally and continue our operations by implementing secure workplace policies that follow local regulations.
Related news and insights: