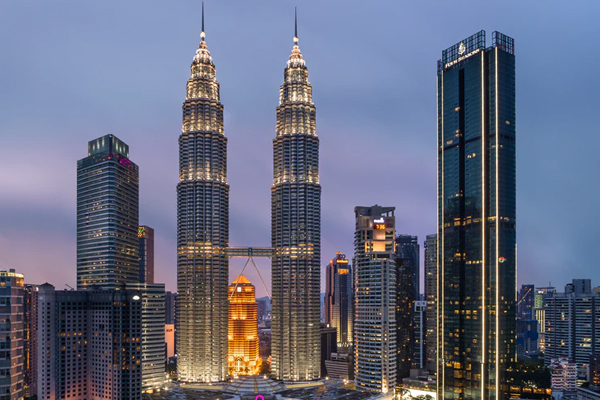 Malaysia has emerged as one of the region's leading digital innovation and outsourcing hubs, building and attracting international companies with its infrastructure, diverse talent pool, and beautiful landscape. With more than 100,000 expatriates (expats) in Kuala Lumpur and voted as the #2 city for expats by InterNations, this vibrant Southeast Asian melting pot is as multicultural as it gets.
The Malaysian people heavily value kinship between ethnicities, called Muhibah' in Malay, and has been a foundation for the continuous development of the country. Malaysia has matured into a sweet spot for a multi-faceted society, competing as one of the top economies in Asia with its consistent economical and industrial growth. Alongside its rich mix of influences with remnants from the colonial age, this wonderful country is a beautifully mixed cocktail of friendly people, world-class dining, and unforgettable experiences.
An Attractive Business Environment
According to CEOWORLD Magazine, Malaysia was ranked as the 9th best place to make investments in or do business in 2020. Strategically located between India and China, and embedded on the Malacca Straights, a major shipping route enables Malaysia access to large Asian markets. Over the last two decades, it has seen an influx of small to medium size enterprises along with global giants such as DHL, Shell, IBM, and HP which have set up offices.
Malaysia is also recognised as one of the preferred destinations for outsourcing and attracting talent and business from all over the world.
Because of the country's attractive natural and business environment, Malaysia brings tremendous value to the relationships between a company and its people, translating to a higher-quality experience, enthusiastic employee engagement, and higher retention rates.
A Land of Languages
As a next-gen business process outsourcing (BPO) company, Everise is leading the industry with its Multilingual Hub situated in the core of a melting pot, Kuala Lumpur, delivering cost-effective native language support from happier, more motivated agents.
There are thousands of beautiful beaches, a large expat community from around ASEAN, and 60 international airlines ready to jet-set travelers to over 100 destinations. Being a beautiful and ethnically diverse region of the world and encompassing a combination of good infrastructure, strong government partnerships, and warm weather, Malaysia is at the top of the list to attract multilingual talent.
Natives Serving Natives
Cross-shoring is a unique "natives-serving-natives" support operations model that offers customer lifecycle management services by native speakers at a lower cost, without compromising on the customer experience, delivered through a multilingual hub.
Traditionally, businesses that want to grow in Asia need to set up customer support operations in each country they enter. Everise's Multilingual Hub solves this challenge by enabling companies to efficiently scale their business across each unique market.
Some of the world's most valued brands use our state-of-the-art multilingual hub offering full proficiency omnichannel customer support through native language speakers of over 25 languages. It is also one of Malaysia's largest Japanese employers.
Combating Coronavirus
Amidst the spread of COVID-19, customer and employee loyalty are more important than ever. During the uncertainty, Everise's Malaysian team pulled together 95% of its agents, or champions as we would like to call them, and migrated them to a safe and secure work-at-home solution in less than two weeks.
"In disruptive times like these, companies investing in home-based talent and technology are leveraging their resilience to achieve growth. Everise has made these investments, which empower our people to connect and engage, ensuring we are able to quickly adapt to meet the needs of our partners," says Sudhir Agarwal, Founder and CEO of Everise.
Everise has a presence in strategic markets including the United States, Guatemala, Ireland, Philippines, Japan and Malaysia, with its global headquarters in Singapore.
Find out more about engineering a home-based CX solution to get you through this crisis and the next one as well. Contact us today!
Related Insights: