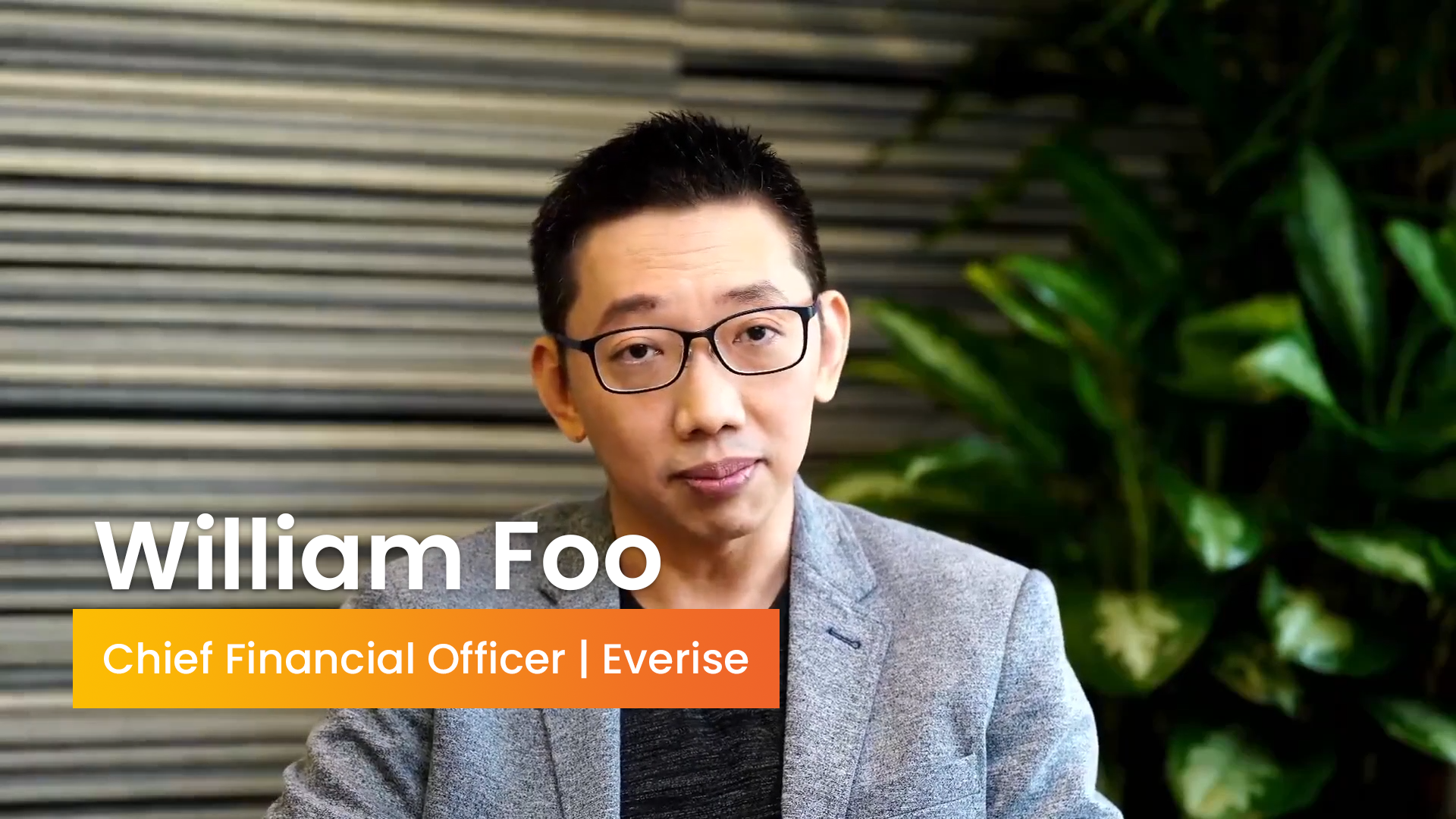 Chief Financial Officers are essential for designing and managing an entire organization's financial structure. They are responsible for tracking the financial progress of their company, as well as analyzing their financial strengths and weaknesses. However, the past few years have become a sort of transition period for CFOs across all industries, one that has been accelerated by recent world events such as the global pandemic.
CFOs need to understand their business strategies and build strong relationships with business leaders. This includes responsibilities that are crucial in achieving financial objectives and managing their department as a whole. CFOs today have diversified their roles by understanding how factors outside finance such as talent oversight, outsourcing arrangements, and digital transformation can help their organizations become highly efficient and scalable amidst an evolving market.
We spoke with Everise Chief Financial Officer William Foo to share his insights on the evolving role of Chief Financial Officers, how CFOs are adapting to meet financial goals during periods of uncertainty, and how Everise standardized its financial processes through digital transformation and automation.
Q: How has CX evolved in recent years?
A: The customer experience (CX) industry has significantly transformed over the past decade, adopting advanced technology to Cloud Contact Centre as a Service technology (CCCaaS), and enabling services such as omnichannel customer relationship management (CRM) software, natural language interactive voice response systems (IVR), and chatbots.

The pandemic catalysed the need for digital customer experiences, resulting in brands applying widespread use of digital channels, such as smartphones, consumer-friendly apps, and social media. Today's consumers expect content to be ubiquitous, seamless, and personally relevant, such that whenever they seek out a brand, they are known regardless of the platform they choose to engage with the brand or retrieve brand information.
International Data Corporation (IDC) research projects that 80% of enterprise revenue growth could be dependent on digital offerings and operations by 2022. Enterprises need to provide an intelligent and efficient digital experience as a critical differentiator to keep customers engaged, attract new ones, and streamline back-office operations.
Q: How does CX drive digital transformation for companies that are transitioning to digitalisation?
A: Some examples of innovation include breakthrough artificial intelligence technology to power CX evolution for our customers across the world. We built an intelligent voice solution that enables clients to automate inbound and outbound call processes with a voice-based virtual assistant. This voice automation technology cuts through long IVR workflows, and with call volumes spiking at various times of the day, an IVR solution helps manage call volumes in a human way.
Given that we have economies of scale, Everise can actively drive such innovation and digital transformation for our customers, reinventing the way they deliver and improve customer experiences.
As investing in such technologies can be costly, brands can and should partner with outsourcers who can provide effective solutions that they can customise to suit their particular support needs.
Q: What are the benefits of a positive customer or product experience?
A: A positive customer or product experience critically builds loyalty and trust. Moreover, research by PwC shows that customers are willing to pay up to a 16% price premium on products and services with great experiences, and one in three consumers will walk away from a brand they love after just one bad experience.
CX also can directly impact the experience of a potential customer. Positive customer reviews make potential customers feel more confident in buying your product or service. However, the open nature of digital and social media platforms makes them the ultimate double-edged sword as customer support channels. It's a very efficient way to show off a brand's responsiveness and gain highly visible, vocal brand promoters in the process. But it holds the risk of exposing a business's lack of responsiveness and gaining highly visible, vocal brand detractors in the process.
Our CX teams help boost customer satisfaction, by moderating digital channels, facilitating better reviews and producing brand advocates in the process.
Q: In times of uncertainty, why should CFOs consider outsourcing CX as a growth strategy?
A: There is historical evidence that companies that invest in delivering quality customer experiences emerge stronger after a crisis. McKinsey found that during the 2007-2009 recession, companies that led with superior customer experience provided shareholder returns that were three times higher than laggards. They also found that the top reasons for stalled transformation initiatives were due to resourcing issues and lack of core competencies.
Outsourcing enables entities to benefit from:
Lower operations costs - In-house customer support is often provided from the expensive cities where company offices and executives are located. However, if an outsourcer has a cloud-based technology stack, it could operate where real estate and labour costs are lower.


Cost-efficient and proven technology - Investing in customer experience technology is expensive, especially if that technology must be secure enough to safely manage sensitive customer information. An outsourcing partner invests in the best technology and spreads the cost out among many clients, enabling cost efficiency.


Seasonal demand support - If a company's support needs are higher during some seasons than others, they may have to spend part of the year paying for manpower they do not need during low demand seasons or not having enough experienced staff in high demand seasons. As an outsourcing partner has a diverse set of clients, they are able to move agents around over the year and retain experienced talent.


Flexible cost structures - In-house customer support results in fixed costs, even when demand is low. Outsourcing partners can offer flexible cost structures that only require payment for work done, allowing companies to save money.
Q: How do next-generation outsourcers assist CFOs in risk management?
A: It's our agility and ability to innovate that helps CFOs mitigate the risks of an unpredictable market. We help them optimise their services for performance and cost, and to adapt to their needs. Digital innovation is a critical component to enabling this.

We also believe that to mitigate risk, you need a geographically distributed workforce that is digitally enabled. We call this strategy "Flexshoring" because it provides the flexibility of blended work-at-home and centralised office teams on a global scale. By combining multi-shore (a mix of onshore, nearshore and offshore) customer service teams, we give our customers the advantages of reputable outsourcing regions without the risks of over-relying on any one of them. This approach helps mitigate any potential fallout from geopolitical upheavals, natural disasters, or other unforeseen market risks.
For example, we recently supported a client who was digitally transforming their CX just before the pandemic hit. Our solution included "right-shoring" their support resources around the U.S. and Guatemala while deploying cloud contact software, as well as voice and chat automation. Because of their foresight, they were able to continue supporting their customers without any downtime, thereby effectively managing risk.
What is particularly unique about this was the amount of attention we paid to synthesize the voice automation to match the older demographic. We were able to contain and automate about 50% of inbound interactions.
This attention to the details of the experience also came through during the pandemic when the team saw increased interactions from customers about offering disabled delivery service – this was shared, and a new service was launched.
Q: How does fraud cause hidden costs in the financial management of businesses?
A: Scammers are often adept at finding loopholes in policies and procedures that are put in place to enhance customer experience and meet the demands of legitimate consumers. A fraudster can dishonestly interface with their target's customer support agents to be successful, for example. This often happens when purchases are made with stolen or counterfeit credit card numbers, false warranty claims, or exploitative use of discount codes, and can result in significant losses to the company, along with reputation damage.

Many business leaders do not realise that customer support teams can help to identify and nip fraud (such as reseller warranty fraud, account fraud, and content moderation, but not credit card fraud) in the bud. The key is having an experienced team because intuition plays a vital role in fraud detection and prevention. For example, in one case that involved a leading connected device manufacturer, Everise combined an experienced team with AI tools to create the Fraud Squad. They were tasked to build a data model that reviewed their online store order review process to identify potential fraud risks. The findings resulted in identifying bad actors which resulted in substantial savings and the creation of a knowledge base to use on the frontline for identifying future fraudulent behaviour.

Outsourcing companies that succeed at sniffing out fraud often do so because they retain their best agents, who can identify when something is awry and will note certain patterns of behaviour that are occurring. Everise recently made a discovery that blocked the efforts of a single fraud ring, saving the client almost US$10 million in the process.
Q: How and why are modern CX strategies changing and evolving to more flexible, local models, manned with teams that are native speakers?
A: In CX, both business models and services are evolving. Some ways in which we are helping customers to transform their CX are as follows:
Omnichannel Integration -

Say a customer reaches out to a brand for one product, and again for another product, they not only expect the brand to deliver the same experience across both products, but also to retain their personal information. They do not want to provide the same information time and again for specific product lines, or even according to the channel they chose to communicate with the brand. They expect the brand to know their details and know them with reference to any product they buy, and any channel they choose to reach out to the brand. Companies need to provide omnichannel integration to help customers to enjoy a seamless experience with their brand while using data analytics for improvement.



Native speaking multilingual hubs -

A seemingly basic but deeply important aspect of customer experience is to provide native multilingual support, particularly in Asia where local consumer behaviours are varied. Speaking the language of your customers creates deeper trust and loyalty that improves their affinity towards your brand. But doing so at scale requires working with partners who have hubs that attract and manage these speakers in a single hub.



Using technology for customer service excellence -

By removing repetitive tasks using technology such as AI-powered conversational chatbots and robotic process automation tools, companies can not only better manage call volumes, but enables CX staff to focus on being empathetic and resolve highly complex problems.
Innovative partnership model -

Increasingly, our clients are seeking to streamline their vendors and have true partnerships with a handful of competent partners who can deliver a consistent holistic suite of services, while continuing to remain agile and innovative. This, along with increased technology capabilities is also moving the industry towards more outcome-based costing models.
Q: Can you share how Everise has automated its financial processes such as financial planning analysis, budgeting and forecasting?
A: In order to standardize our financial processes globally, Everise partnered with Oracle Netsuite, a leading cloud-based ERP which seeks to provide real-time visibility for global operations. This partnership has enabled the Finance department to present insights for planning, budgeting, and forecasting processes that drive insight-led growth, which in turn, aid Everise management and the operations team to make more informed business decisions.
Everise also utilizes business intelligence dashboards to stream and view all real-time operational, human resource, and financial data into a single view. Doing so helps the company make quick data-driven growth decisions that benefit the company, our partners and our people.
Discover how Everise evolves experiences for the world's leading brands by providing the solutions and technology they need to rapidly scale across markets.
Related Insights: