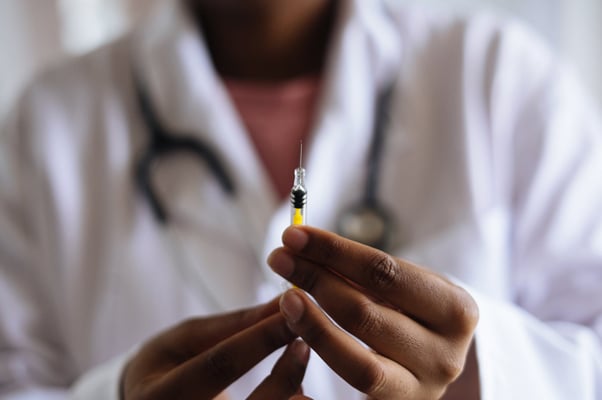 One of the most anticipated events of the century -- the development of the Covid-19 vaccine -- also happens to be one of the most contentious. Potential recipients from every segment of society have a wide range of concerns and many have grown distrustful of information sources they previously counted on.
As of January 11, 27.7 million vaccine doses had been distributed to states, territories and major cities – but only about 9.3 million people had received their first shot, leaving about 66% of available doses left to be administered, according to the Centers for Disease Control and Preventions.
"This is not a supply issue at this moment in time," Vice President Mike Pence told governors on a White House call.
In response the Health and Human Services Secretary, Alex Azar, has announced major changes to extend the eligibility to more seniors and provide more locations for people to get inoculated.
"We think right now getting the vaccine into (more) individuals, now, could really make a huge difference in the hospitalizations that you would see in your jurisdictions say four to six weeks from now," CDC Director Robert Redfield told governors on the call, adding it was his strong recommendation.
People want their specific concerns addressed unfiltered, in real time, directly by their health services provider or insurer.
As the vaccine roll-out moves from front-line healthcare workers to the general public, an enormous strain on healthcare customer support teams is inevitable, inconveniencing not only vaccine candidates, but all other callers as well.
There are undoubtedly factors that are completely out of most healthcare companies control, but affect their brands and businesses nonetheless. An infusion of temporary agents is uneconomical, inefficient and certain to produce a poor experience (which many will be eager to share with their friends).
It is the prerogative of Health Services companies to proactively reach out to at risk members and support the national vaccine effort as proactively as possible. Tremendous value can be recouped within the spaces separating seemingly small member decisions all along their care journey.
4 Ways Everise Solves the Surge in Vaccine Support
Experts have warned that 'the coronavirus won't stop evolving' once a vaccine arrives - likewise, neither should your business. Given the high possibility of new lockdowns in potentially more severe second or third Covid waves -- and the unpredictable impact these will have on communities data infrastructure -- it is essential that health services continue to digitally evolve their customer experiences.
There are 4 core areas that must be invested in:
1. Proactive Omnichannel
One of the best strategies to manage a deluge of inbound volume is to proactively reach out to at risk members. Utilizing intelligent Cloud contact center software that equips agents with the right information at the right time is critical in deploying this strategy.
This is made more complex with the myriad of channels your customers prefer to communicate on. Your most-at-risk population wants to talk on the phone, while younger patients prefer chat. Some in the middle favor interacting via Facebook or SMS. Today's businesses need to accommodate all of these.
Everise's proprietary AI platform, exage, offers a cloud contact center solution that enables omnichannel support that meets your customers needs. It also offers a unique opportunity to consolidate business and employee intelligence data streams and thereby offer new insights into how customers are experiencing a brand. Using these insights to feedback into your strategy is vital.
"Everise proactively innovates and suggests ideas about how they can do more instead of just getting comfortable." - CX Director from a National Healthcare Payer
2. Rapid Hiring & Training

Taking agents away from customers is the last thing a customer support operation can afford as it starts to become inundated with increased volumes. However, without being trained to resolve evolving contact queries, productivity metrics inevitably fall.
Everise is able to solve this conundrum with our access to cross-trained licensed and unlicensed healthcare agents and our ability to quickly find and hire qualified agents. Our usage of the latest collaboration technologies ensure remotely delivered training to home- based agents is as effective as centralized.
"Everise is able to onboard capable licensed agents while keeping their attrition low; licensed agents are not easy to find and are highly sought after." COO of a major Healthcare Payer
3. Nationwide Home-Based Support
In some cases, state-sponsored programs will require support agents to be hired in-state, which is only possible with a robust remote workforce solution. The rapid rise of remote work has caused the demographic hiring radius to all but disappear. This has had the result of shifting focus from hiring demographics to psychographics, which is defined as an individual's preferences and aspirations – traits more difficult to quantify than demographics but suddenly more important.
Everise has dedicated work- at-home teams and proven processes that ensure our work-at-home solutions are more than just part of a business continuity plan, they are part of our long term CX strategy. To date, 95% of our global workforce is working from home. With over 3 years' experience and agents nationwide, Everise's Home Experience solution is trusted by some of the most reputable American Healthcare brands.
"They are usually the faster [compared to other vendors] to get back to us in terms of solutions, and they know what you want." Sr. Director of workforce planning of a major healthcare payer.
4. Remote Data Security
In healthcare, data security and compliance are the coins of the realm. Our security-first approach to building, maintaining and growing our technology solutions is embodied in our three technology watchwords: security, scalability and sustainability.
exage Sentinel is our AI-powered remote agent monitoring technology, built to ensure the highest standard of consumer data protection and privacy, while intelligently balancing the data privacy of our agents.
Everise is a global leader in customer experience management for several prominent healthcare brands. For ten years, we've mediated some of life's most important interactions for well over 30-million people.
Contact us to learn more about our surge support solutions.
Related Insights: