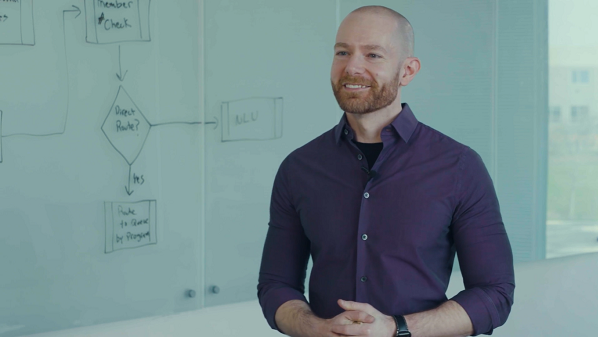 There's a saying that taking the road less traveled will increase the chances of making a discovery. It is a saying that applies to most people who choose to take particular career paths in life. Meet Peter Butler, General Manager for Everise PX. He shares with us a glimpse into his personal life, how he started out in his career, and how he discovered his natural ability for managing people with compassion.
Peter's family moved around a lot while he was growing up, but he spent most of his childhood in Minnesota. When they first moved to Texas, he wasn't quite sure what to expect, but he eventually became accustomed to his new life in Texas.
"My family moved around a little bit, kind of settled in, and I spent my young years in Minnesota, quite a difference from here in Austin Texas. But, we moved here when I was 11 and when we got here I wasn't sure if I would ride a horse to school or what. I didn't know what Texas was like, but thankfully it's been great."
Outside of work, Peter has multiple hobbies. He finds time to practice video editing, but the hobby that he has the most fun with is one that he has been doing as far as he could remember - making music mashups.
"So I have a couple of hobbies outside of work, I do some video editing and things like that, but going back really far, I also like to make music mashups. That's kind of like been popularized in movies like Pitch Perfect, but I like to think I did it before anyone really knew what that was."
When Peter began his career, he wasn't really sure where his career trajectory would take him. He didn't really consider having a career in contact center management, but his first job out of college with Apple introduced him to the contact center environment. It was there where he discovered how he had a natural affinity with his work, and he learned to have fun while learning about his role and building his career.
"My first job out of college was with Apple and it was in the contact center environment there and I started to realize that this is actually something that a lot of people don't necessarily work toward, but once you're in it, and you realize it's something that you can do, you can actually have a lot of fun with it."
When asked about his work, Peter credits his success to the bonds he made with his employees, which he considers as his family. He invests in their individual growth and looks forward to seeing their achievements.
"I think the reason I do this job well is because I really care about my employees and I consider them almost like family. When they know that you're invested in keeping them around, that you are here to help them improve, they're more likely to stay and actually achieve that improvement. There are a lot of leaders here that came from my team, and I'm super proud of that."
Peter's leadership aligns with our company's core values, and we're proud of him and his team's accomplishments within Everise. His natural ability to manage people with compassion defines our people-first culture, and we are proud to have him as part of the Everise family.
At Everise, we ensure that we put the spotlight on the people behind our success. That's why we are featuring employees from different walks of life and shedding a little light on the people of Everise.
Related Posts: