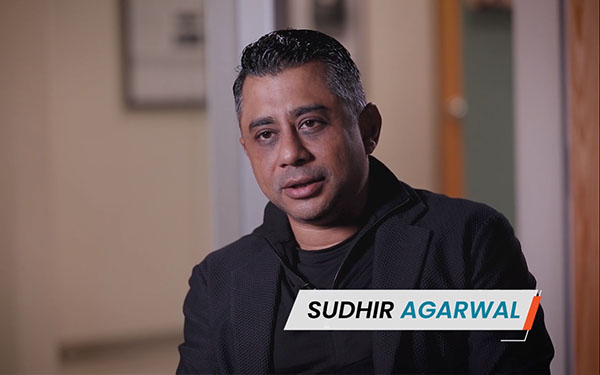 There's a saying that all great things come from small beginnings. For Sudhir Agarwal, Founder and Chief Executive Officer of Everise, it is a statement that he knows all too well. Sudhir was born in Calcutta, India and eventually moved to Delhi.
His determination and dedication to his studies led him to the United Kingdom where he finished his M.B.A. at Manchester Business School.

Even as a student, Sudhir learned to work his way up the industry ladder. When he was in college, he worked for a tech company where his job was to go to multiple offices and sell hard wire cables – an experience which he recalls was worth going through to get to where he is now.
"My first job in college was with a tech company where I was a door-to-door sales guy, and I literally had to go sell – today people won't even know about what's called CAT 5 cables. I would literally go from office to office and sell those cables, getting every door slammed at me."
Sudhir looks back at this experience and claims that it helped shape his outlook and work ethic throughout his career. For him, it was a phase that he had to go through in order to be better and improve as a person, and as an employee. He was no stranger to rejection and saw it as a necessity in the path towards success.

"I still remember the first sale that I got, and that I thought that I had just done the best job in the world. So yeah, it was worth it and you realize that rejection is just a path to success. You've got to go through the grind and go through the phase if you want to come out better on the other side."
He also shared how a friend and mentor was the one who introduced him to the industry of outsourcing while choosing between two job opportunities. His mentor's passion for the industry was the kindle which eventually lit up the fire in him to pursue his own career in the business which to this day still burns brightly, even after 21 years of being in the industry.

"I got two job offers and I was playing golf, which is now my home course in India with a gentleman who's a really dear friend of mine today, but is also my mentor. And he has created one of the largest tech companies in the world called Genpact. I made the mistake at the end of nine holes by asking him "Hey listen, which job offer should I take between the two that I had?" Then he actually convinced me to come and join him. I asked him "What are you doing?" He said, "I'm going to create the world's largest outsourcing company in the world." I said "What's outsourcing?" He said, "I'm going to create these centers of excellence." He was just so passionate about it, I said yes. So that's how I entered this industry, which now I've been in for over 21 years."
Sudhir's path towards success is just one of many. His eagerness to learn about the industry and his remarkable dedication to experience the highs and lows of his work in order to improve are favorable traits which we could all emulate. Just like Sudhir, it may even be the stepping-stone for others in finding their own success.

At Everise, we ensure that we put the spotlight on the people behind our success. That's why we are featuring employees from different walks of life and shedding a little light on the people of Everise.
Learn more