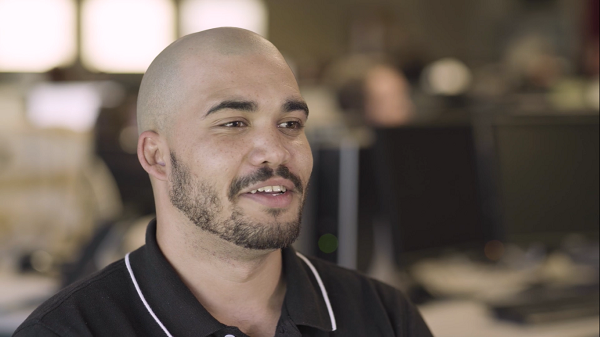 Tahlequah is a small town, rich in history and welcoming people. Malik Hodge, a Customer Service Representative from our Tahlequah Experience Center, shares his story of growing up in Tahlequah and how his Mixed Martial Arts training has taught him valuable life skills he utilizes to deliver great customer experiences.
Malik was born in Arkansas but spent his life growing up in Tahlequah. From a young age, he developed a passion for Mixed Martial Arts, enabling him to study different forms of fighting and helped him become a better martial artist.


"In my spare time, I actually do Mixed Martial Arts, I've actually done it since I was 12 years old. I've never trained to discipline so much just like being belted or anything like that, just so much as going to gyms and learning all of them at once rather than doing them separately."
Malik believes that Mixed Martial Arts has helped him deliver better customer support. The discipline required for training has prepared him to handle any situation and helped him stay calm during stressful situations.


"You have to be disciplined, you have to have a lot of self-control whenever you're handling those situations because there's the do's and don'ts of fighting, and like the same thing with doing what we do. The same way that you're in a cage, you have to stay calm and composed or you're going to make a mistake, and it's over like that."
As an Everiser, Malik shares how his work allows him to meet and converse with different people that he wouldn't have the chance to meet otherwise. He enjoys their unique stories and perspectives as he assists them in during their conversation.


"The most interesting thing I could think about my job as of now is just the free-flowing conversations without following a script. All the interesting people from, let's say west coast to east coast, they're very interesting."

Having worked for Everise, Malik shares that he has been provided with many opportunities to grow in his career. He believes that Everise has given the young citizens of Tahlequah a chance to start their career and help support their family.


"I've worked for this company for over 2 years now, straight out the gate I went to an escalated team member position, and then we had switched things and now I think it's just a good place and a better opportunity for a lot of the young kids and young parents who don't have the means to go to college at this point, but they can keep their family afloat. It's a good opportunity to have for anyone here basically."

Everise is home to diverse people with colorful backgrounds and unique talents. We support their personal endeavors, and we aim to grow with them. Everise is happy to have talented people like Malik as part of the family.
At Everise, we ensure that we put the spotlight on the people behind our success. That's why we are featuring employees from different walks of life and shedding a little light on the people of Everise. Learn more about our Tahlequah Experience Center and our people just like Malik today!
Join us!
Related Posts: