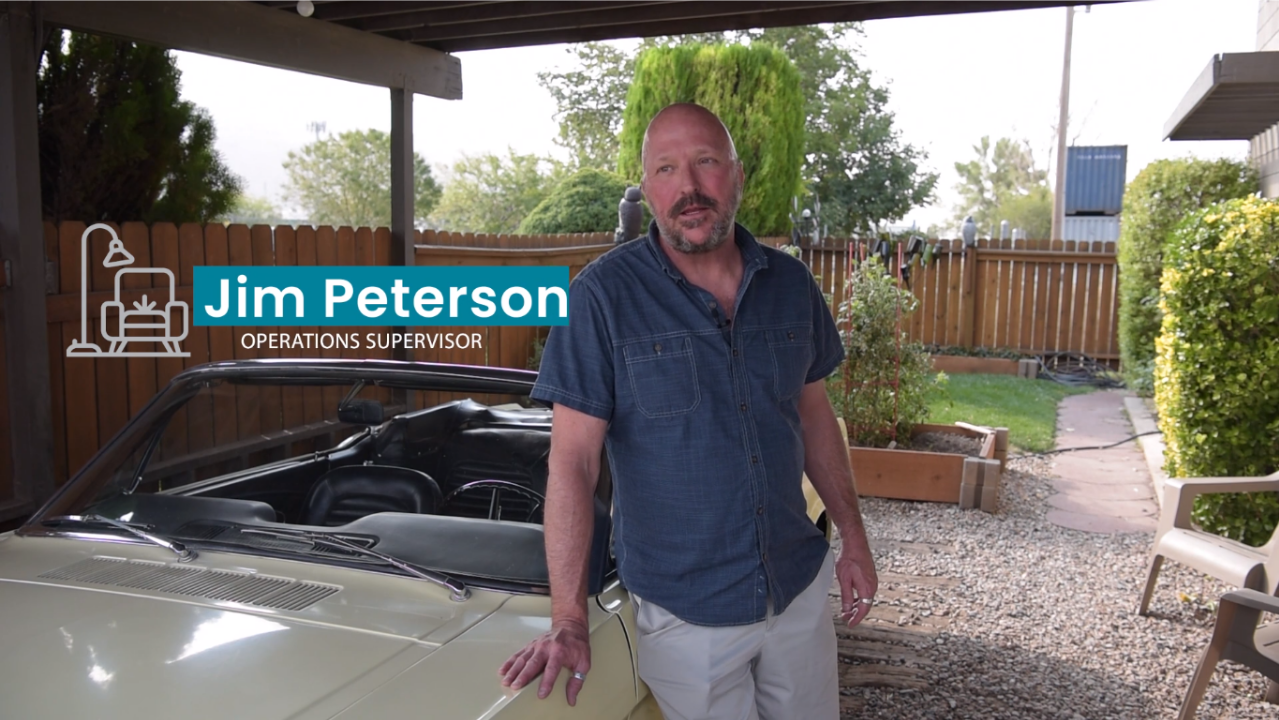 When the pandemic first broke out, Everise quickly transitioned over ninety percent of our workforce into remote work environments. Fast-forward to the present day, most of our champions are now working in the safety of their homes. In this installment of People of Everise, we're introducing a new series - Live from our Living Room - where we interview our work-at-home champions in the comfort of their homes and learn more about them as they share a glimpse into their personal lives and how they're adjusting to a new work environment.
Meet Jim Peterson, Operations Supervisor for Everise. Jim is from Salt Lake City and was one of the many champions who started working from home even before the pandemic hit.
At first, Jim felt that transitioning to a work-at-home environment would be difficult. He was used to personally working with agents and meeting them face-to-face for engagement activities. For Jim, the challenge was keeping the agents engaged in a virtual environment.
"My name is Jim Peterson, I'm an Operations Supervisor for Everise. I work from home, based in Salt Lake City. The transition to working from home has been quite a challenge at first. I was always a Supervisor, and I was big on engagement activities while outside. The challenge is how do you keep your agents engaged in a virtual environment."
Jim explains how he supervises his agents remotely and shares important keys to engaging with a virtual workforce. He reaches out to his agents daily and personally contacts them whenever he feels that they need assistance. For Jim, constant communication is important for finding success while working remotely. He believes that letting his agents know that their work is appreciated helps boost their morale and allows them to perform better.
"Try to reach out to every agent daily. Some agents are pretty independent and don't really need that much assistance, some need quite a bit of assistance, but it's important that you not only assist those that need help, you'd want to recognize those that don't reach out to you often and make sure that they know that you're there for them, that you appreciate all they're doing."
Outside of work, Jim enjoys long drives with his vintage car. It has been with him ever since he purchased it from his mother 20 years ago, making it somewhat of a family heirloom. As with any vehicle, things tend to break down, and parts wear out, especially when it's well over 50 years old. But Jim enjoys maintaining and taking care of his vintage automobile and considers it his passion.
"One of my biggest passions is my old car, this was my mother's car, which I purchased off her 20 years ago. I enjoy it, it's all original so things break when things are 56-57 years old, I enjoy fixing and working on the old car, maintaining it, and taking my early morning and evening drives."
Jim also talks about the innovative leadership in Everise and how he and his team had a head start in adjusting to a remote work environment. They were sent to their homes before the pandemic even reached their area and were provided with everything they needed to continue operations. For Jim, the early preparation became beneficial for the agents, the customers, and Everise as a whole.
"They had us all working at home even before the pandemic, but many other companies scrambled to catch up, and their learning curve was a lot more painful. We were already working from home when the pandemic hit. It's been a win-win situation for Everise, for our customers, and our agents."
When asked about the benefits of remote work, Jim claims that it has lowered their employee attrition, and most of the employees love working from home. By being work-at-home champions, most of the inconveniences that came with traveling to and from work, such as bad weather and travel time, were eliminated. Jim says that his team feels supported, and they feel fortunate to reap the benefits of working from home with Everise.
"Our agents love working from home. There's been so many advantages and we were fortunate as a company to take that step before the pandemic hit."
At Everise, we ensure that we put the spotlight on the people behind our success. That's why we are featuring employees from different walks of life and shedding a little light on the people of Everise. Learn more about our award-winning culture and our people just like Jim today!
Related Posts: