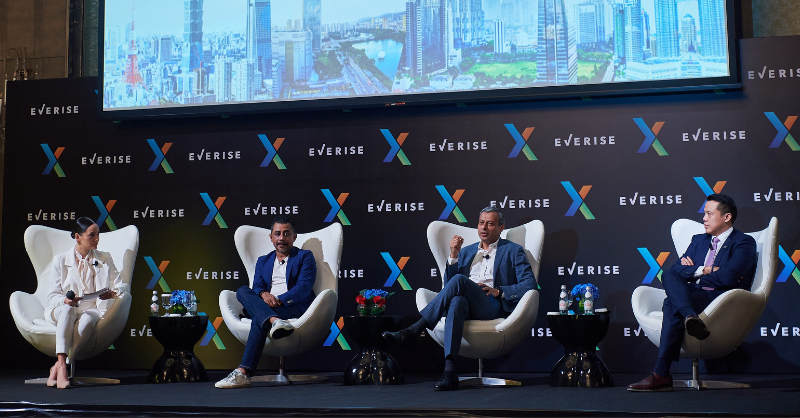 On April 29th, 2021, Everise and the American Chamber of Commerce (AmCham) in Singapore held a panel discussion at the Shangri-La hotel where thought leaders from leading industries gathered to share their insights about navigating a rapidly evolving Asian market.
The event started with opening remarks from Dr. Hsien-Hsien Lei, CEO of AmCham Singapore. She shared how sharing collective ideas and practices today can positively impact others in the future.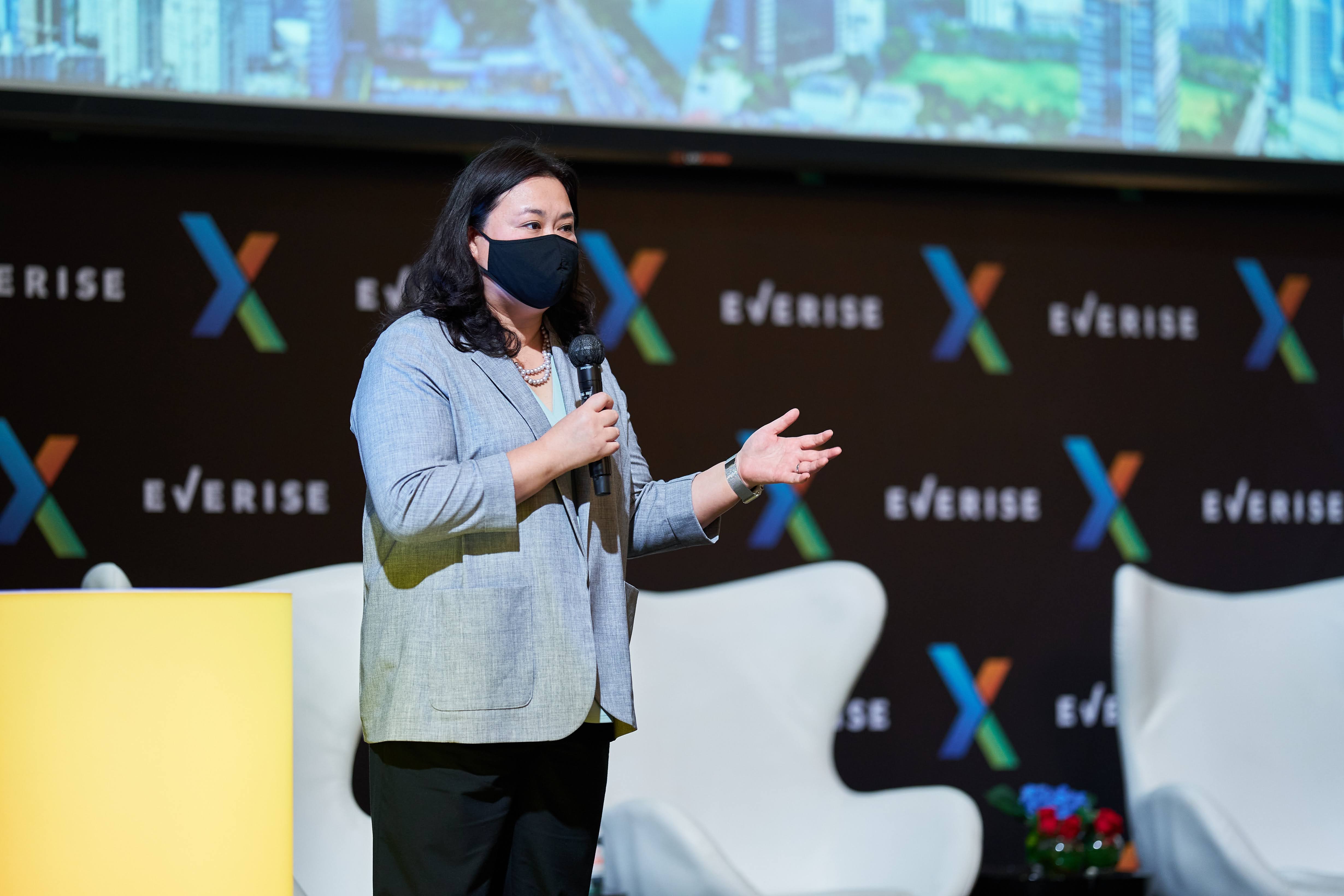 "If we all work together and share our ideas and best practices like what we're all going to do today, I am convinced that Asia, with the majority of the world's population, we will be very successful, and we will have a major impact on the global stage."
Human Connection Specialist and Speaker Simone Heng hosted the event, moderating the discussion and asking insightful questions between Everise Founder and CEO Sudhir Agarwal, Microsoft Asia President Ahmed Mazhari, and Group President of ONE Championship Hua Fung Teh. Together, they shared the lessons they learned from the pandemic and discussed how companies have been able to survive and thrive through the global challenges brought by COVID-19.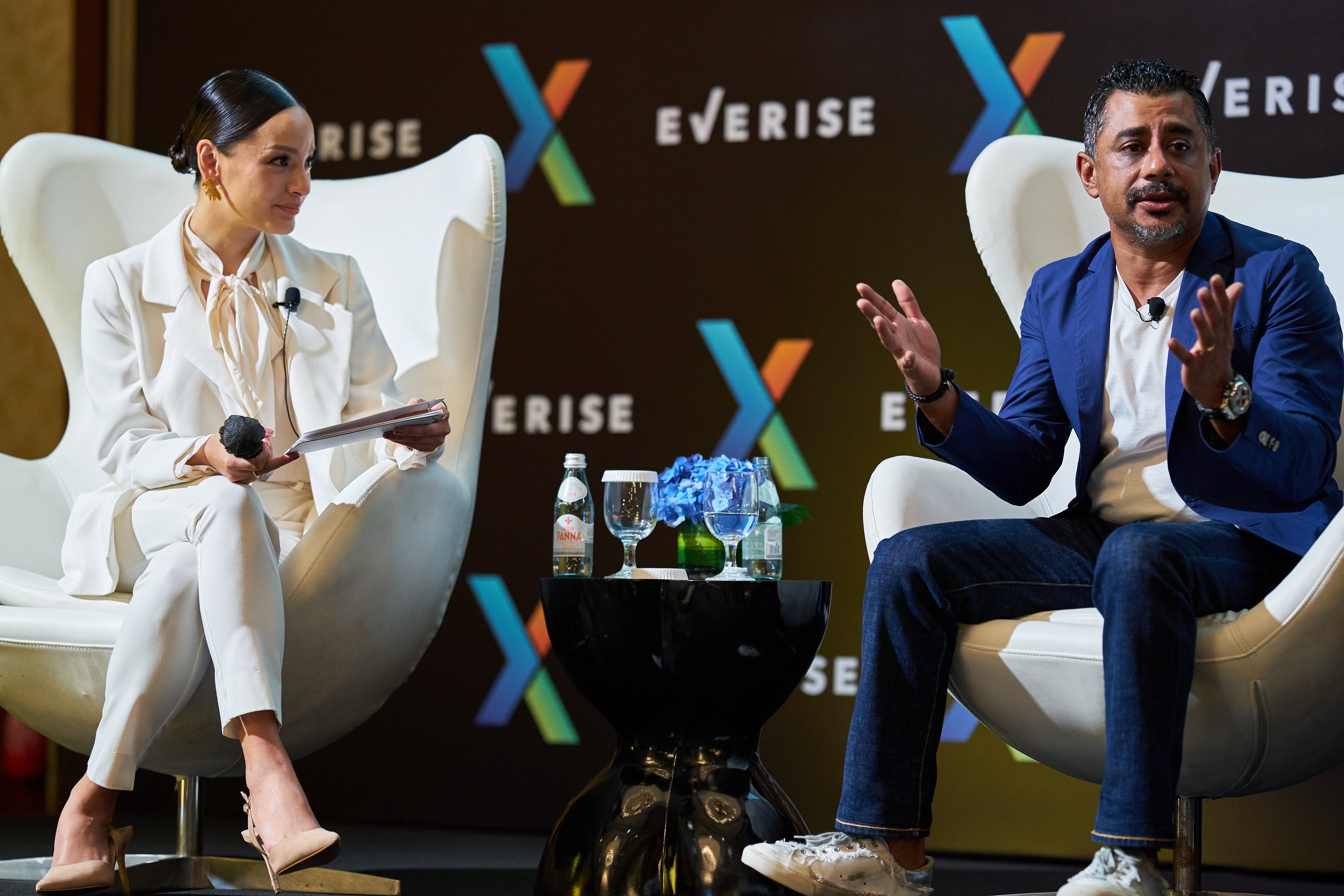 Question: We have all felt the effects of the COVID-19 pandemic which has disrupted businesses globally. Some companies have felt the pain of suddenly having to move their business to a work-at-home environment and venture into new industry verticals, and some have thrived. For Everise, how has the company evolved in the past 12 months and how have you pivoted into new growth areas?
Sudhir: "I think what really got us going were the investments that we made in our technology. We were pretty much one of the earliest adopters of moving to the cloud and getting everything to the cloud. Within a short span of three weeks, we were able to move 95% of our entire workforce to work at home. And that's where, even today, they all work from home. I think it was our leadership team and our ability to move really fast that helped us a lot to tackle the pandemic."
Question: In a high-touch world where we have been forced to operate in a low-touch mode, critical work functions such as individual productivity, team collaboration, organizational alignment, and culture have been affected. How have Asia Pacific's legacy work styles been impacted by COVID-19, and what does the future of work look like in the new normal? Lastly, what are some key lessons on continuing to innovate your products and support your customers?
Ahmed: "The impact is very global, and what we have gained in terms of technology and its evolution, as Satya said, we probably had two years of digital transformation in two months. The new world of the future, which is a more hybrid world, will have to find ways to ensure that there is empathy and inclusiveness built at the core and becomes foundational to culture and leadership.

And that is across the board, so the world of the future is hybrid, the world of the future will be deep empathy and inclusion, and those are two attributes of leadership that will make us successful.

Technology is always an enabler. Technology will become a deeper enabler across the world and across sectors, as we believe. Who would have thought that a deep need for Mixed Martial Arts would help us think about technology in a very significant way? And I'm hoping to enter some of the team members in ONE Championship about what we can do to enable more inclusive entertainment. And that is across the board, so the world of the future is hybrid, the world of the future will be deep empathy and inclusion, and those are two attributes of leadership that will make us successful."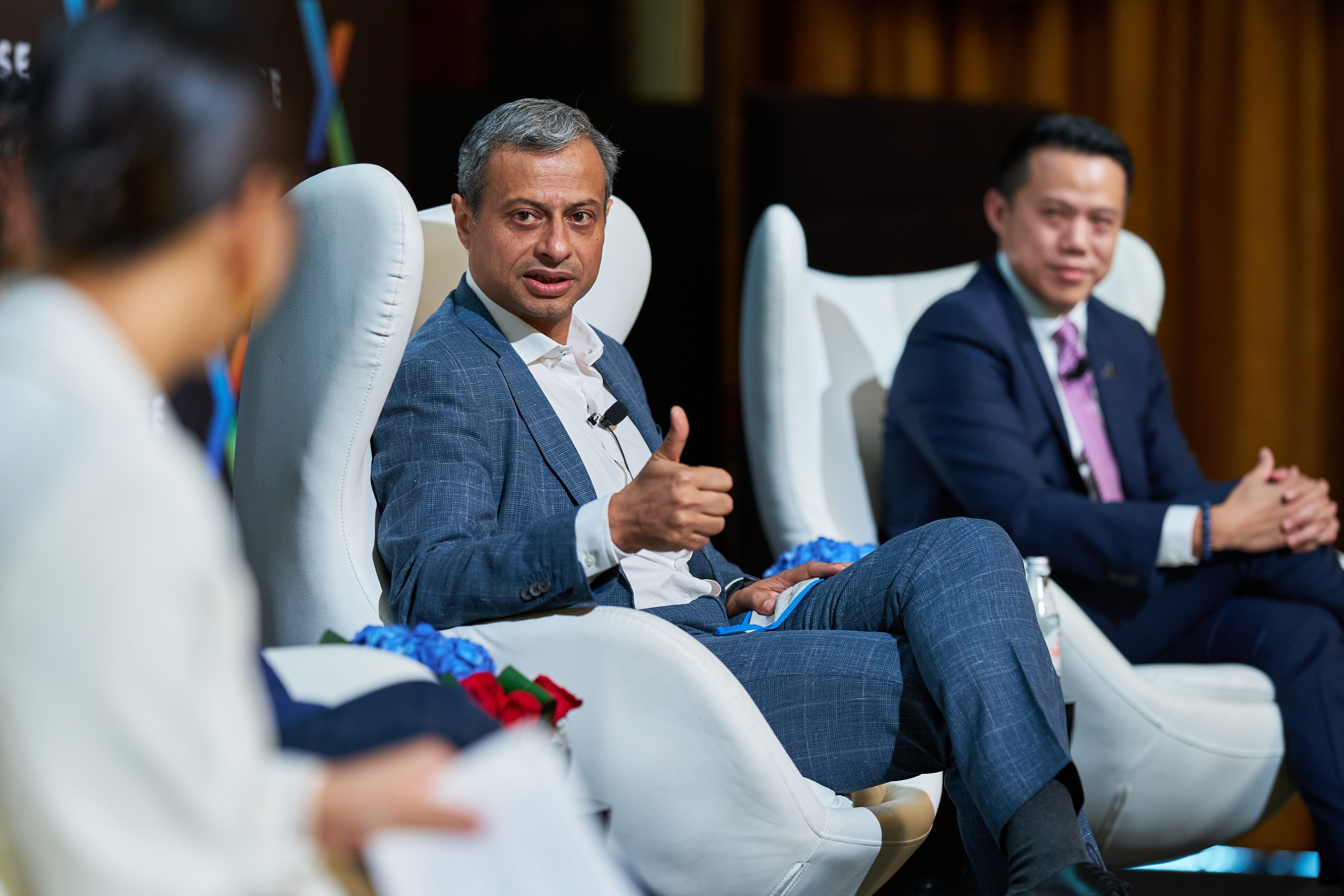 Question: Last year, ONE Championship and Microsoft teamed up to give fans a brand-new immersive experience, one that aimed to transform the digital fan experience and enhance collaboration with its employees. How has your digital transformation roadmap played a role in your success, and are digital experiences a priority that will stick around in the future?
Hua Fung: "Because we were born into the digital age, the likes of Facebook, Youtube, social media, Tencent, and China, in terms of distributing our content, were always the first options in some ways. We've just been a big beneficiary of that big secular trend that we've seen over the last 10 years. When you think about what that means in terms of a business model, what it does mean that in a digital universe, we have a lot of fans, some are residents of our own platforms, some are resident on third-party platforms, but these are fans of ours and their number is growing quickly. In terms of another measure, organic video views, which is a measure of online popularity, we rank top 3-4 in the world today. We've been doing 1.5 billion organic video views a month across all of our digital media.

One thing we're working with Microsoft on is a data lake, getting data from all the different platforms and figuring out what our fans are about. Mapping out their psychographic profiles, their transaction preferences, their consumption preferences, their demographics – that'll help us understand our fans better, better serve them, and in our business, better monetize the community that's growing. Another part would be our engineering infrastructure, working with Microsoft Azure, the cloud platform, to simplify and optimize our engineering structure so that as our community grows, the infrastructure can keep up and scale."
Question: While COVID-19 has been a shared experience across all nations, the responses and national challenges that arose have varied greatly across Asia-Pacific. While many organizations are increasingly regional in nature, the pandemic has changed how some of them interacted with their partners and clients in other countries across this region and around the world. Do you think there will be unique impacts in different industries? And please share any key themes you see that are shaping the new normal at work.
Ahmed: "What we believe the role that technology will play will be to create a world that progresses towards the future. For example, in healthcare. And the whole idea is how do you use technology to create healthcare quarantine support for people who need quarantine support? How do you create telemedicine? How do you augment doctors and nurses? Because it takes 10 years to train a doctor. It takes four years to train a nurse. But technology can create capacity much faster. The same will be applicable in education. So while the pandemic has been quite brutal and non-inclusive in many ways, the inclusion that we create is many more children can get educated now as we look to deliver devices and solutions which are economically attractive."
Question: The global sports industry had come to an almost complete standstill in 2020 because of the virus. The world's major leagues- football, baseball, basketball, Formula One, hockey, cricket, and more- had to either suspend or cancel their seasons. Since becoming the biggest sports media company in Asia and moving the majority of your business to digital for the time being, what are some key learnings on pivoting your business to maintain the customer and employee experience?
Hua Fung: "Last year we took it upon ourselves to make sure that we kept serving our fans and our community, our brand of entertainment. We also took the opportunity to launch new content such as The Apprentice: One Championship Edition. It's a fresh take on one of the longest American reality show. So I think one of the key learnings is that number one, people still desire entertainment. Number two, it was an opportunity for us to serve not just our core martial arts product; but new product verticals that we accelerated as a result of the pandemic. And that's why our views and our viewership have just been growing even through the crisis.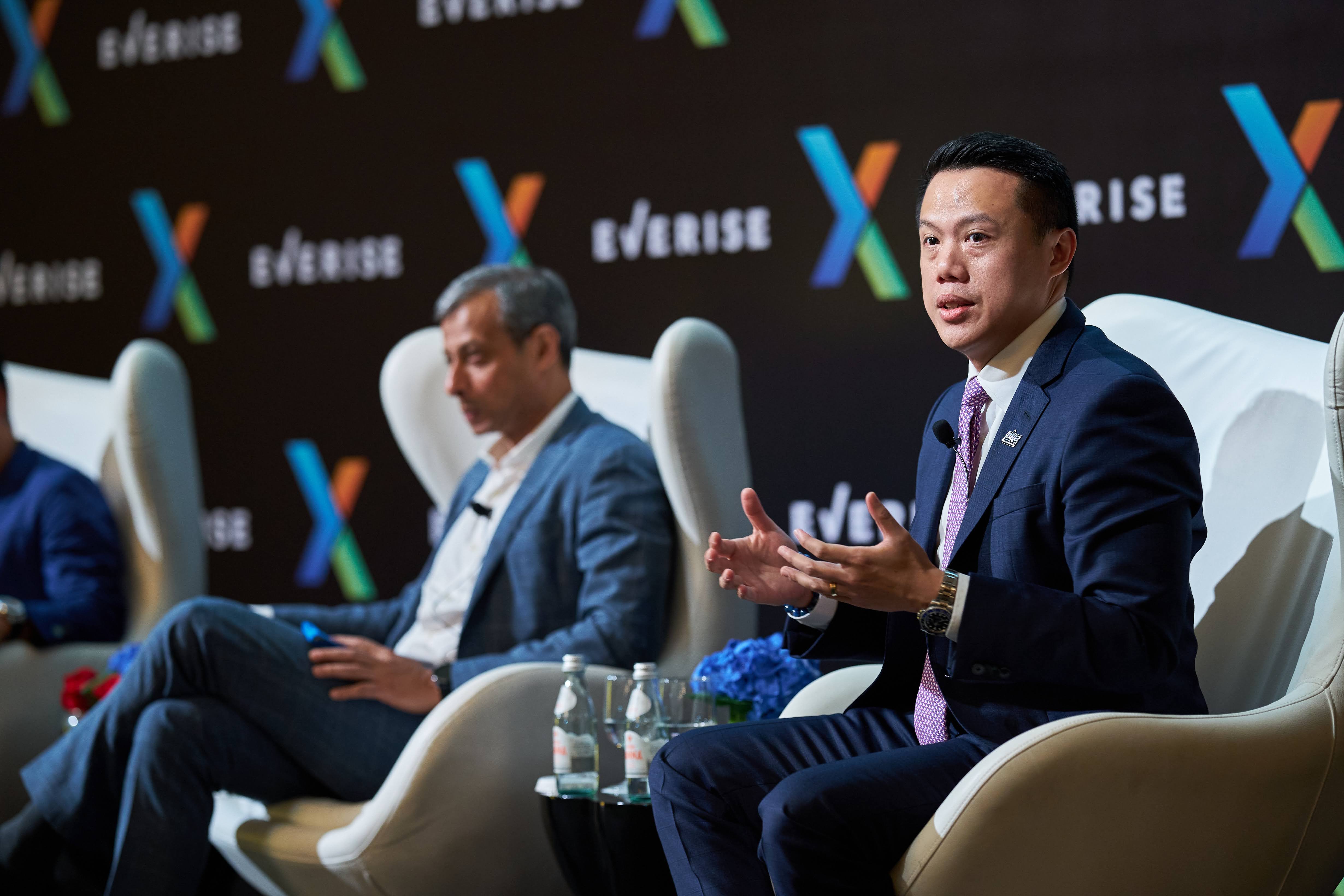 Question: What are your views on the future of work and managing a hybrid workforce? And what is your two-year Asia business forecast?
Sudhir: "The future, to complete your question, is going to be a complete hybrid model. I think work will get back to brick-and-mortar offices. Our bet in two years, even without growth, we believe 50 percent of people will work from offices, and 50 percent of people will work from home. And that'll be the new norm. One thing we do need to be careful about, in my view, on the other side of 100 percent work at home, is the fatigue coming in. Because I think work-life balance is extremely important, and so we are making a lot of investments in that to ensure that our people take time off."
Ahmed: "I'm not sure I can predict to any degree of accuracy what the world will hold to. But I believe I'm hugely optimistic. The human race is extremely resilient. We will come out stronger."
Hua Fung: "I think about that question through two different lenses. One is as a manager. Because we're living in a remote world now where so much communication happens over a screen, it behooves us as managers to make sure people maintain connectivity and inclusiveness. How do you make sure that you continue to show empathy to your workforce, some of whom you may not see for months or even a year?

The other lens I use to view that question is that of a businessman and a strategist. This new world that we live in has resulted in some efficiency gains. As Sudhir said, many meetings that we once had to travel for do not require travel anymore. There can be many efficiencies gained when culturally, people are more used to sitting in front of a screen. So as a strategist, that creates opportunities for people to go to market situations."

Question: Why is mentoring and cultivating young, talented people so important? And the second part of my question is, what is your advice for young managers of today?
Sudhir: "Build a team that's better than you. Most importantly, empower them, enable them, and build a team that you can trust and that can be loyal to you. Because I think if you follow that, you will realize 15 to 20 years from now that those people will grow in their careers.
Ahmed: "Why is mentoring important? Because we have a responsibility to hand over a better world to the next generation. That's progress. And it's important that we carve out time between the work that you're assigned to do the daily chores of your lives, etc., to investing for the future, you know, everyone has a role to play. And I think knowledge and experience are not competitive differentiators. They're enablers."
Hua Fung: "Everything that goes around comes around. And there is a certain type of balance that is healthy for humankind. And when you generally have been helped along the way, good things have happened to you, right? When you have thrived in every situation under the tutelage of certain mentors, you have to figure out how to pay that good stuff forward because otherwise, it'll be too imbalanced. I've always believed that you cannot have too many good things happening to you without very deliberately paying it forward. That restores the balance in the world."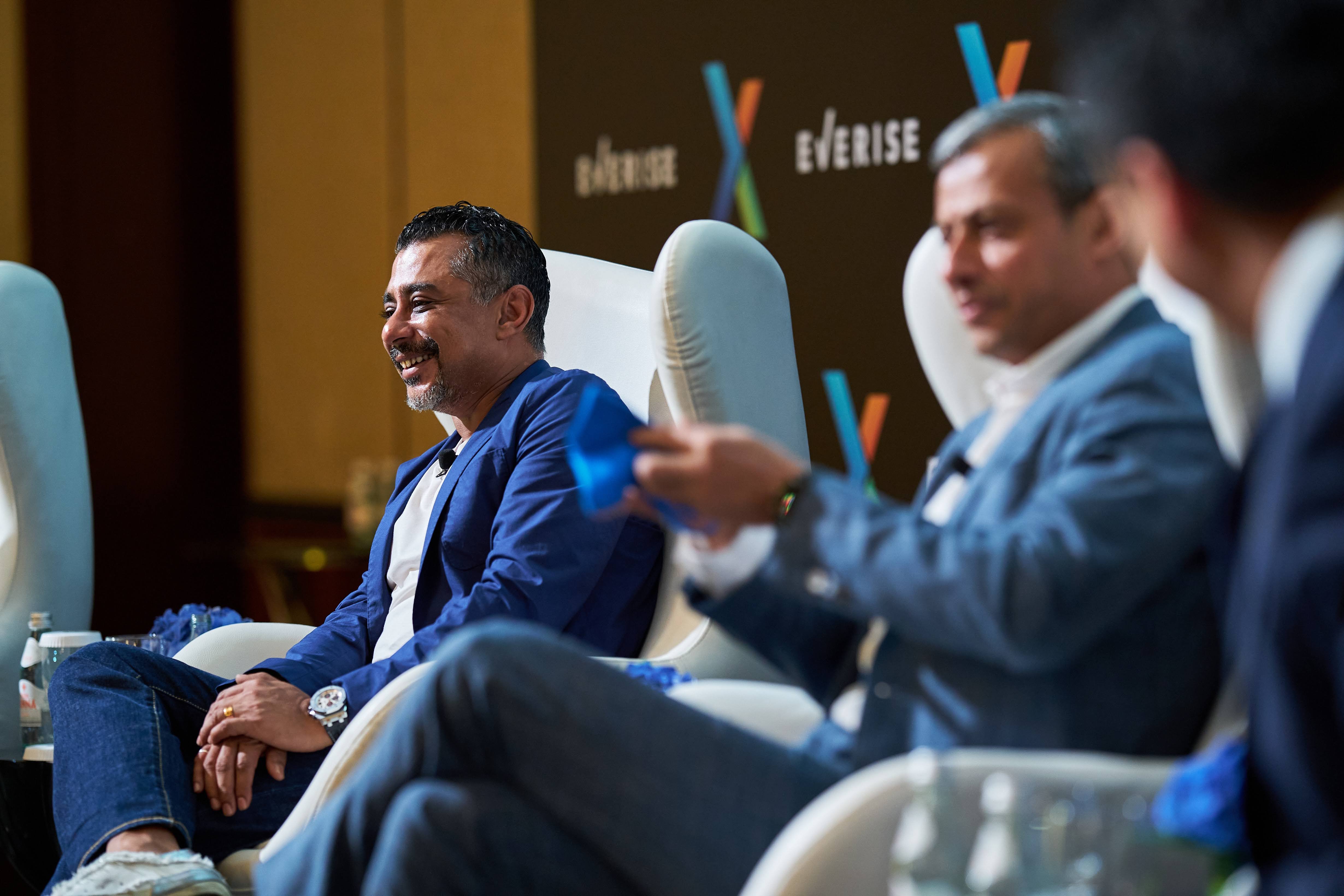 Related Insights: