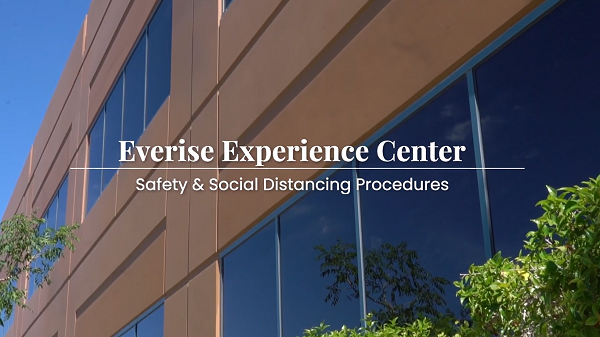 As people across the globe continue to adjust to the new normal due to the effects of the pandemic, businesses are starting to implement safety measures in welcoming their workforce back into the office and gradually resume on-site operations. Everise remains committed to the safety of our people and are going above and beyond at all of our Experience Centers.


While most companies are just starting to adapt to the new normal, businesses that were considered essential continued their operations amidst the pandemic. Essential businesses such as healthcare facilities, pharmacies, and grocery stores had to continue operating even in areas that were under lockdown.

Operating in the middle of a pandemic has many challenges, but essential businesses operated at full capacity and mitigated risks by adhering to their safety practices. Their procedures offer valuable lessons and practices to consider before reopening for businesses in any sector.

One important thing to remember is that there is no absolute solution that works for all companies since work environments are vastly different. Workplaces have different levels of risk, which also vary depending on the proximity of exposure. What we gathered from studying the safety practices of essential businesses is that there are two main principles that are effective: accommodating safety measures to fit unique business environments and implementing them across a full range of business activities.
Essential Actions to Consider
We've compiled a list of safety measures implemented by essential businesses across a wide range of industries. These practices can be helpful to business owners in applying the necessary measures required to safely accommodate their employees and customers. Employers should take note of the importance of educating employees on safety protocols, identifying at-risk individuals, and providing resources that will ensure everyone's safety. The following points should be taken into consideration to mitigate risks upon reopening.
Remote Work
One of the most effective risk-mitigation measures is to conduct contactless services and continuing remote work in areas where it is possible. Several companies have moved functions that don't require on-site equipment access, such as finance and marketing, into remote work environments. Grocery and food chains also introduced contactless pickup procedures, and Physical Therapists are leveraging virtual methods such as telehealth, and at-home virtual exercise routines to accommodate their patients.


Training and Development




Softer safety measures such as training and education played a significant role in developing safe habits for customers and employees according to the experience of essential businesses.



Companies in the U.S. are familiarizing employees with safety and hygiene protocols through education modules and online training before returning to work. Other large companies such as Tencent provided their employees with videos covering basic information on safety measures and explaining details regarding the return-to-work process.


At-scale Testing
For companies in places where COVID-19 testing is widely available, tests are vital for ensuring the safety of employees. Large companies such as Amazon plans to provide testing for all of its employees and is even considering building its own COVID-19 test center.


Symptom assessment


For companies that were located in places where testing wasn't readily available, different symptom assessments were used to screen high-risk employees, and prohibit them from coming to work.



A U.S. ad agency implemented its return-to-work plan by classifying its employees under three different risk levels. Level-one employees were those who tested positive for COVID-19 antibodies and can return to work immediately. Level-two employees were those younger than 65 years old and without health conditions, which were part of the next wave of employees who returned to their offices. Lastly, those classified as Level-three employees were those who were considered as immunocompromised and aged 65 years or older. Level-three employees were instructed to refrain from going back to the workplace until further notice.


Mental Health Care
The current situation affects not just the physical safety and well-being of employees, but also their mental health. Companies have started providing mental health tools such as video counseling and subscriptions to meditation apps to improve the mental health of their employees.


Reopening Everise's Experience Centers
In response to the crisis, Everise has converted to a mostly home-based enterprise, with over 90% of our workforce shifting to a work-at-home environment. We are gradually making progress in opening our centralized Experience Centers by adhering to our people-first policy and taking steps in safeguarding the health of our employees.
We've instituted safety precautions that exceed from what the CDC itself has recommended. We're opening our Experience Centers to accommodate people at less than 25% capacity per building, and we're implementing a social distancing rule to maintain a distance between any two employees at all times.
Entering and exiting the building
Everyone entering and exiting the building is required to undergo a temperature check and show the person manning the front desk that they are cleared to enter. Afterward, they will apply a sticker that will identify them as cleared and permitted to enter. The front desk is also manned at all times, so there won't be instances where somebody might get through without having their temperature checked. We've also prohibited visitors and guests from coming to the office at this time.
Inside the building
There are hand sanitizing stations placed throughout the building, and we've also established a system that ensures bathrooms will only be occupied by one person at a time. While training is taking place, the trainers themselves are in completely different rooms, and they are also delivering the training virtually using the technology that we have.
Contactless communication
Supervisors who want to interact with their employees communicate through the messaging technology we have. Masks are also required any time two employees might come within six feet of each other, any time employees go out beyond their workstations, and any time they're not in the lobby.
If we have potential clients who want to get to know the facility, they no longer need to be physically present to do so. We have a remotely controlled robot that clients can use to take a tour of the building. It's an innovative step that we're taking to make sure that everybody is kept safe.
We are still developing new ways to ensure the health and safety of everyone in our Experience Centers. We want to make sure that all our safety measures meet our own safety standards, as well as our clients'. We believe that these safety precautions are necessary for serving our clients and keeping our employees safe while resuming operations.
Related Posts: