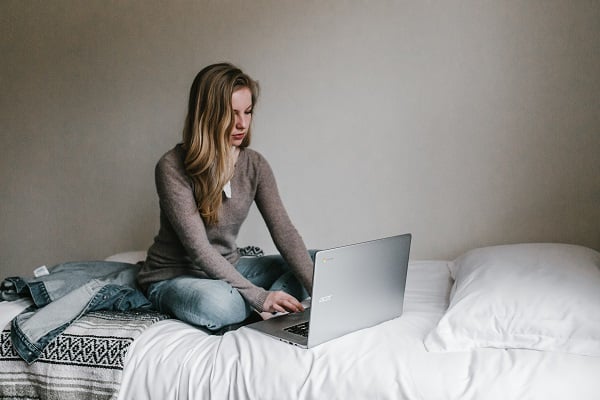 With US unemployment projected to reach up to 20%, work-at-home jobs will be the new normal for many people. For those who have never worked from home before, especially in a customer support role, it's important to know what you need in order to land a job.
Long before recent events caused the rapid cultural shift to working from home, it was already a growing global phenomenon. In multiple surveys, remote employees named job flexibility and the zero-mile commute to work as great reasons for working at home. Hear from Everise work-at-home employee number one on her reasons.
FlexJobs also came up with the same findings, adding that 66% employees feel more comfortable and productive working remotely than in a traditional office. With all of these benefits, you might be wondering why you didn't do this earlier!
What are the computer requirements for work-at-home jobs?
Starting a career at the comfort of your own home is actually easy as long as you have the equipment to provide quality support to the customers.
You are qualified for a work at home job in Everise if you meet these requirements:
Standard Connection and Speed
Wired Ethernet connection 20 mb/s download, 5 mb/s upload (wireless is not permitted)
Monitor
Flat screen 21" monitor(s)- quantity to be determined by the client. If 2 are required, Everise will supply 1.

Headset

Plantronic EncorePro HW520 and HIS adapter (may be purchased at a discount from Everise preferred vendor)

Adesso Xtream stereo headset with microphone (to be supplied by Everise)

Hard-Wired Broadband Internet Service Via DSL, Cable, or Fiber Optic

The use of wireless connections to access Everise Work at Home systems at any time is prohibited, even if the connection is encrypted.

IGEL Thin Client
To be supplied by Everise
Avaya 9611G IP Desk Phone
Hard phone to be supplied by Everise
What traits do I need to be successful?
At Everise, we work as a virtual team. While we have our share of fun, it does take a special breed of person who can tolerate what can be an isolating experience. If you can say "yes" to some of these points, then working from home is for you:
I can work independently without daily face-to-face management.
I have the ability to learn and develop independently, using digital training tools.
I can proactively manage technical issues that prevent my ability to maintain a productive work environment.
I am comfortable with engaging with my team over video and chat applications.
I have a dedicated area to work from in my home and can abide by specific security criteria that will be required of you in that environment.
With the right tools and mindset, you can start a lucrative career at home away from the stress of a daily commute, office distractions, and more. Interested? Apply now!
Related Posts and Case Studies: