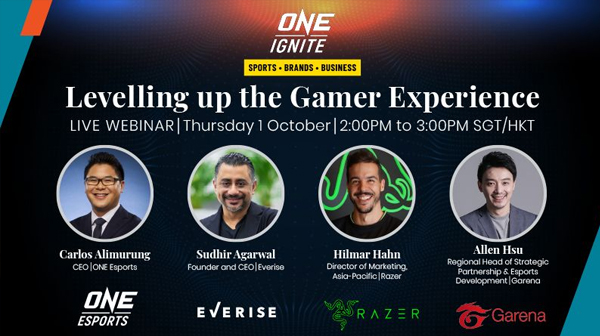 The Esports industry has thrived since movement restrictions increased our time spent at home. Research from Nielsen found that 89% of global consumers played video games and watched video game content during the height of the COVID-19 pandemic lockdowns. But as the world begins to open back up, how does the industry sustain this growth and inspire loyalty amongst their user base?
Everise Founder and CEO, Sudhir Agarwal, together with ONE Esports, Razer and Garena discussed how the gaming industry is using technology, culture and data to levelling up the gamer experince on October 1 2020.
Watch the full webinar here.
Leading up to the webinar, ONE Esports asked Sudhir a few questions about how Everise specifically was approaching customer experience for gamers.
At a high-level, how does your team think about customer satisfaction? Any great examples of customer satisfaction?

Everise has the uncommon belief that the best customer experience is one that never requires support. Everything we do aims to identify the root causes of a customer contact to perfect the products and services we serve. But ultimately some customers will still need support and when they do, it needs to be on the channels they prefer, when they prefer in a culturally empathetic
way.

One similarity between all gamers is that they expect not only an outstanding experience with 100% up time, but an experience that adapts to them, culturally. Gamers are a very passionate and globally diverse audience – so this mean interactions with native speakers whose sense of cultural context is complete and leaves the player feeling truly understood.

For example, Everise supports a leading Battle Royale game in 5 Asian markets. During increased player activity at the onset of quarantines, we not only maintained performance, but actually improve our response resolution by 55% and increased our Customer Satisfaction scores. We achieved this by gamifying the coaching and performance of our agents – immersing them in the experience.


Can you describe the moments of truth for your customers? When does customer satisfaction really matter for your company?
Everise's mission is to transform customers into fans and products into passion. The moment of truth for us is that we deliver on this promise every time, while ensuring we feedback the insights from each interaction into perfecting our clients products and services.

No one understands gamers better than other gamers. Finding people who also play and understand the game can make support teams better. But gaming expertise alone is not enough.

There are also moments of truth that happen outside of the game experience. They happen in community forums, on social media and when they use self-help resources. Gaming CX requires talent, technology and CX processes that enable an integrated, full-spectrum approach.


How do you measure customer satisfaction? What's the cadence of monitoring and reporting?

Outside of the industry standards of CSAT and NPS, each industry has a unique way of measuring the performance of their customer experience, which is typically led by the client – gaming is no different.

But it's important that businesses optimize between customer satisfaction and their bottom line. It's easy to throw a lot of people and money into improving customer satisfaction, but it's hard to do it at scale without breaking the bank.

We have our own Business and Agent Intelligence platform that connects to over 60 data sources that enables us a single view of both our business and agent performance. This allows us to make real-time, data-driven decisions on workforce management as well as adaptive agent coaching.

What do you anticipate the impact of Covid-19 to be for gaming industry, in the short term and long term?

The pandemic imposed lifestyle changes that immediately increased time spent at home coupled with the closure of cinema and sporting venues has pushed entertainment-focused content, like gaming, Nielsen found that during the height of the pandemic lockdowns, 82% of global consumers played video games and watched video game content.

These changes are obvious enough, but something you might not have considered is the need to endow home-based support staff with the same level of data security inherent to centralized workplaces.

This has sparked a need for smart monitoring able to programmatically prevent unauthorized actions – such as manually capturing on-screen data or allowing unauthorized individuals (often residents of the same home where the work is being done) from glimpsing such info. Everise's secure Home Experience solution is how we use remote worker monitoring, facial recognition and other technologies to keep personal health and financial information secure in home office settings.

Can you elaborate how you think about partnerships and vendor relationships when it comes to customer satisfaction?

If there's one thing that the recent pandemic has taught me, is the value of building crisis-proof partnership. In many cases, it's the behind the scenes work that has a direct impact on customer experience.

For example, we were able to transition 95% of our agents into a home environment in a matter of days, ensuring that we continued to support our clients. Many other vendors failed here and left their clients and their customers on hold.

More importantly, the power of partnership should not be limited to the relationship between client and vendor, but also between the vendor/us and our employees. Because when you treat your people as partners, they are more likely to pay it forward to the people they speak to.

During the pandemic, our Glassdoor score increased. We also saw across the board, increases in our clients CSAT scores. People were truly connecting.
Related Insights: