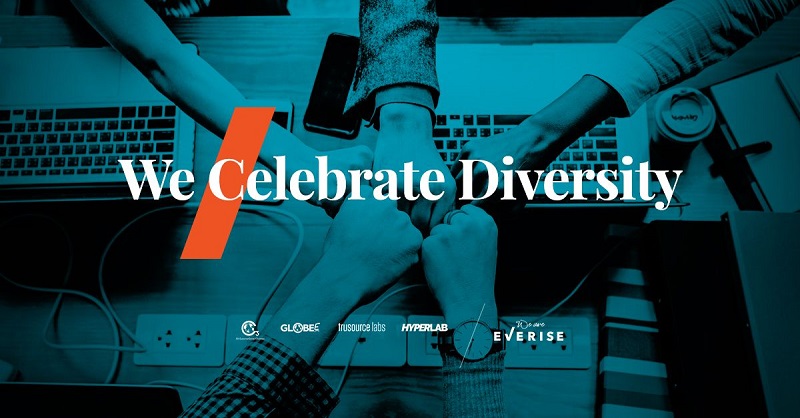 Workplace diversity is the differences between a set of people in each work setting. In today's global work economy, however, diversity must be recognized in all its forms. At Everise, a customer experience company, diversity is nurtured by thinking at all levels, including the perception of one's self and of others through their global exchange programs. For companies to thrive, workplace diversity and inclusivity should be adopted.
In a Glassdoor survey about diversity, 67% of job seekers see workforce diversity as a major factor in assessing companies. This means that top talents are searching for pro-diversity work cultures in an organization and they view it as a positive indicator that entails acceptance, growth and collaboration. The survey also shows that most employees believe diversity initiatives must come from their leaders.
The Forbes Coaches Council defines how to assimilate a pro-diversity workplace. According to them:
Start with Acceptance - Begin by shifting your organization's mindset to adapt strong positive values. Leaders must stake the first action and communicate it across the entire organization.
Recognize Benefits of Workplace Diversity - leaders and employees must understand the merits and importance of diversifying the workforce.
Create a Workplace Diversity Action Plan - Build a strong action plan that is centered on creating a supportive work environment and bringing out the uniqueness of each team member. Leaders may achieve this by creating avenues that celebrate the accomplishments of individual employees.
Workplace diversity has plenty of benefits and it makes sense that companies operating on a global scale must also hire and think global. Recruitment for diversified companies is easier because of the wide range of applicants, which increases the chance of hiring the right talent. Diversity can also increase productivity and widens the spectrum of creative ideas among the workforce. They also become more flexible and adept at communicating with clients.
Diversity, however, also has its share of challenges. Communication and cultural barriers are two of them. These may hinder teamwork because of employees resisting the changes over implementing workplace policies. Age gaps may also create a divide in the workforce when different generations work together to function as a unit.
At Everise, cultural diversity at all levels are encouraged. The company's global exchange program, which deploys high-performing employees across global offices and promotes workforce diversity, elevates global career paths for further growth. This gives employees a chance to look at things from a different perspective, ask questions and challenge the status quo to empower themselves.
Everise also harnesses international mobility through its mentorship program, where employees enjoy a one-on-one relationship with an executive leader. This exposes employees to high-level knowledge, skills, and experiences that encourage creative thinking. Another pro-diversity policy that Everise applies to all their offices is gender inclusivity, which is a progressive decision that embraces everyone no matter what gender identity they choose.
Small but impactful programs such as these prove to make a difference among the employees and elevate experiences not just for the employees but for clients as well.
Related Posts: