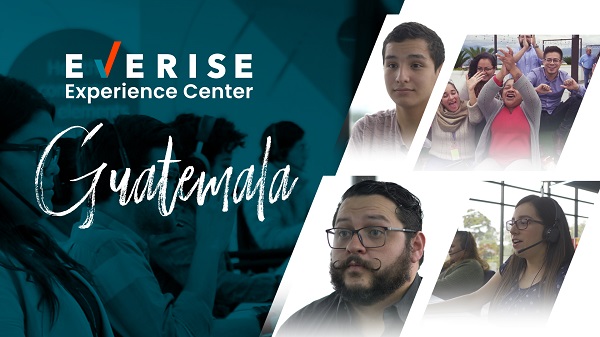 Everise is an international customer experience brand, elevating over 500,000 interactions per day, from our sites in six countries on three continents. These strategic global locations are key to making the successful delivery on our brand promise a possibility.
With the largest economy in Central America and a highly educated workforce, Guatemala is one of the most sought-after places for nearshore outsourcing. The capital, Guatemala City was a natural location to place the newest and most advanced Everise Experience Center.
Launched in June 2019, this purpose-built facility is situated next to the international airport with convenient access to a multitude of amenities. Inside, you'll find our highly engaged employees working, relaxing or playing rooftop soccer and basketball.
With a total of 1,300 work stations, seven training rooms, and 518 parking spaces spread out across a total space of 80,000 square feet, our employees are surrounded by reminders that they are highly valued by the Everise organization. No doubt that's why our Guatemala City Experience Center was recognized for the Innovative Use of HR Tech by The Stevies, and placed in the Top 10 Contact Centers in CIO Outlook and in the Top 50 Workplaces in Silicon Review.
Join us!
Related Posts: