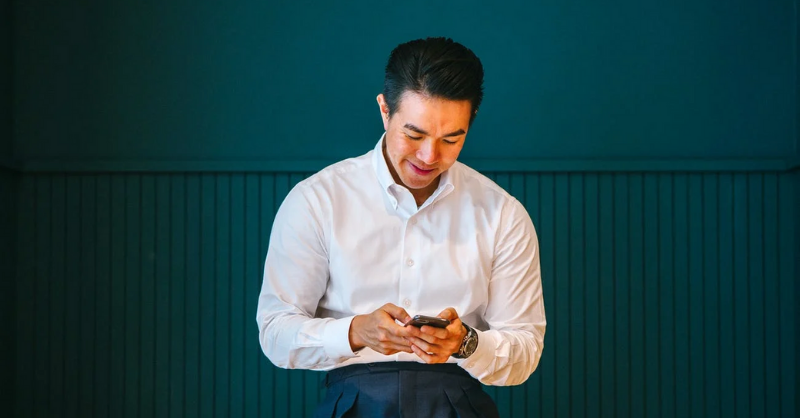 As more people spend more time online, having a great digital customer experience is essential for brands. When done right it gives brands an edge against their competition.
Research from Forrester found that 61% of U.S. online adults state that they are unlikely to return to a website that does not provide a satisfactory experience. But a website is only one channel. Today, people expect brands to have multiple online channels that provide a seamless user experience.
Here are five reasons why you need to be investing in improving your digital customer experience, derived from our 2021 U.S. Consumer Report.
1) 60% of customers do online research before making a purchase
Digital transformation is forcing companies to change business models and adapt to new market trends. Surprisingly, it's not the companies that are driving this change, but rather the consumers and customers.

A study by Forrester estimates that U.S. online retail sales will exceed $506 billion this year and surpass $712 billion by 2022. The study also found that 98% of American adults already go online once a day, and more than half of the U.S. retail market will be driven through digital touchpoints by the end of the year.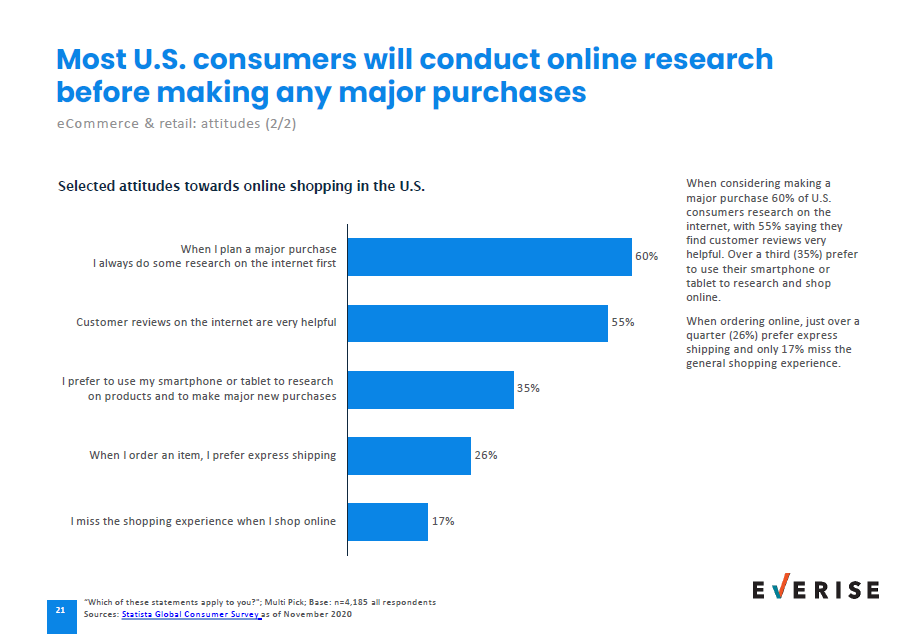 Today's customers expect relevant content whenever they look up a brand or company anytime, anywhere, across any platform they choose. In order to keep up with the new wave of "always-connected" customers, brands must embrace technology and deliver an exceptional experience.
As more potential customers move toward digital platforms, providing a smooth digital experience will become key to keeping them, and attracting more.
2) 59% of American consumers could no longer imagine their everyday life without the internet
Access to digital technology has drastically changed consumer habits. Within the last few years, technology advanced to the point that it has become a central part of most people's lives, with some even needing some form of digital interaction with devices to get through their daily activities.
The Covid-19 pandemic also played a role in the inevitable surge of digital technology usage, mostly due to the social distancing norms and nationwide lockdowns. People and organizations around the globe had to adjust to new ways of work and life, suddenly becoming more reliant on services that allow them to carry out their day-to-day tasks. Preliminary studies from Forbes in 2020 found that as millions of people turned to online channels for entertainment and necessities, total internet hits have surged by between 50% and 70%, with streaming also growing by at least 12%.
This increased digital dependence means that businesses should be more proactive in serving their audience through digital channels. Providing digital experiences that consistently drive customer engagement can improve your audience's customer journey, and in turn, create opportunities for your brand to thrive in the digital space.
3)55% of U.S. consumers say they could not live without their smartphone
Data from our 2021 U.S. Consumer report found that more than half of U.S. consumers state that they could not live properly without their smartphone. While this may sound a bit overdramatic, smartphones provide an array of services that make a lot of people's lives easier in the connected world we have today.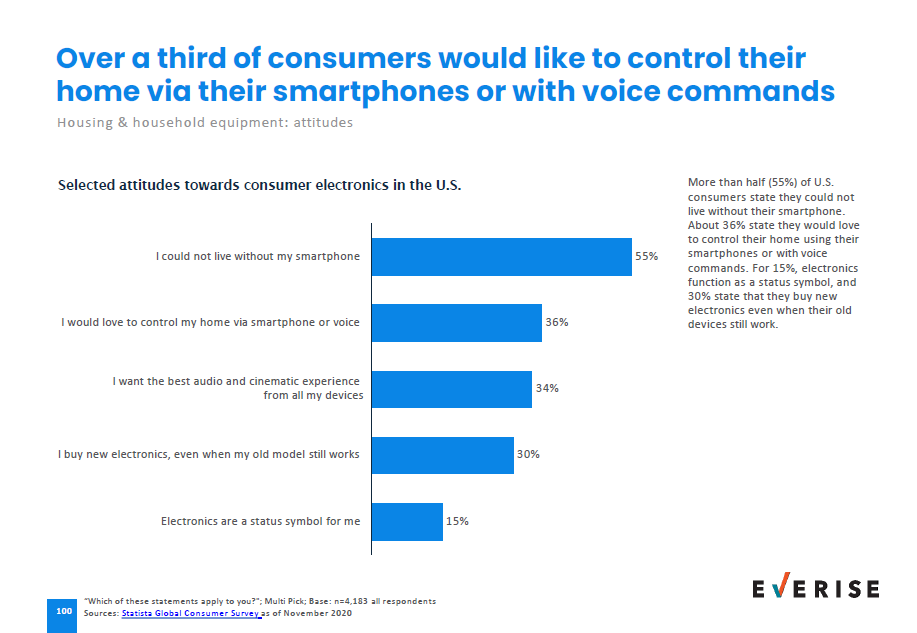 With the technology we have, there's almost no limit to what you can do with a smartphone. People use it for work, entertainment, food delivery, online banking - you name it.
One of the biggest appeals of smartphones is their functionality, especially for people who are still coping with the global pandemic. Data from a global survey by Statista revealed that 70 percent of responding internet users worldwide were using their smartphones or mobile phones more as a direct result of the coronavirus outbreak.
Here's a breakdown of some of the top smartphone activities of U.S. consumers from our 2021 U.S. Consumer report: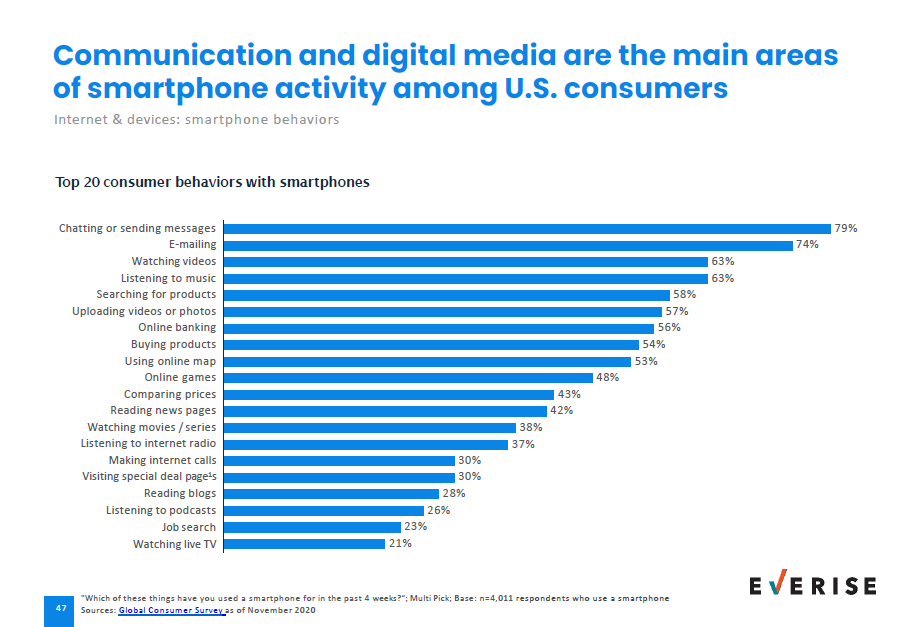 Customers now have numerous options with their smartphones to reach out to almost any touchpoint, and providing seamless service across mobile devices can increase overall customer satisfaction. With a whole list of different activities on smartphones alone, creating a unified seamless experience across these channels can be challenging.
By adopting an omnichannel support platform, brands can develop a clear view of their customers, understand their relationship, and optimize their interactions for better customer service across all channels.
4) 43% of consumers could imagine consulting a doctor via app or online chat.
One of the most positive impacts that advancements in technology have developed was improving the quality of essential services. In an era of social distancing, consumer interaction with companies has completely changed. There is now more value on the digital experience, with hospitals and health systems utilizing a "digital front door" method to connect with potential patients.
SCL Health chief innovation officer Peter Kung emphasized the digital front door as an important aspect of how people connect with healthcare providers without leaving their homes. The digital experience becomes a differentiator that offers a unique value proposition.
"The experience should never devolve into mere clicks and transactions, and it should never make things easier for the healthcare system if it becomes more difficult for the consumer," said Mr. Kung.
According to Pew Research, patients do their own "homework" before visiting a doctor. They also often do their research after being given conditions and treatment options after visiting a doctor:
One in three American adults has gone online to figure out a medical condition.
72% of Internet users say they looked online for health information within the past year.
47% of Internet users search for information about doctors or other health professionals.
38% of Internet users search for information about hospitals and other medical facilities.
The most commonly researched topics are specific diseases or conditions; treatments or procedures; and doctors or other health professionals.


Mobile health or mHealth is the practice of utilizing smartphones for maintaining and keeping track of an individual's health and overall wellbeing. Through mobile technology, patients and carers alike are empowered and their digital experiences can give them more control over their health, and make them less dependent on healthcare professionals.
According to Statista, there were around 47,140 Health apps available on the Google play store in the third quarter of 2020, which was significantly higher compared to the third quarter of 2015, where there were only around 27, 417.
Digital transformation in healthcare, such as the growth of mHealth applications, provides benefits in improving patient lifestyle and treatment outcomes, which is a key factor driving the market today.
5) 33% of Americans could imagine dealing with their financial transactions exclusively online
The pandemic accelerated the adoption of digital experiences at an unprecedented rate, including the banking & financial department. What could have taken years to develop, happened in mere months after the first outbreak of COVID. Research from the BAI Banking Outlook on digital banking trends during COVID-19 found that half of consumers are using digital products more since the pandemic, and 87 percent of them are planning to continue this increased usage after the pandemic.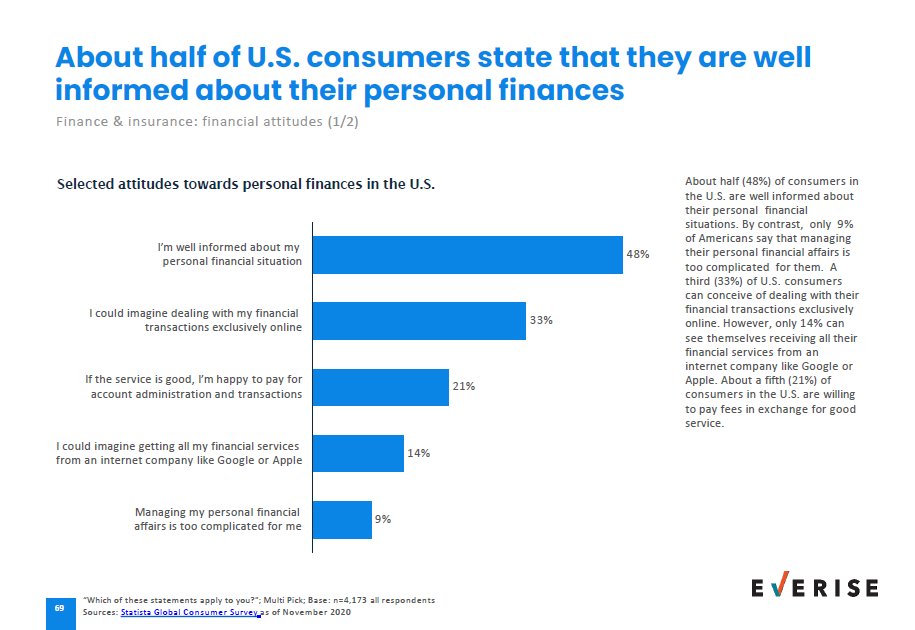 Insurance and banking service providers need to keep up with new trends to tend to their customers and their expectations in the ever-changing digital landscape.
Digital banking has become an increasing trend in recent years, and it's only expected to grow. Digital banking allows personalization at a scale that drives between 5 and 15% revenue growth for companies in the financial services sectors.
Additionally, it comes as no surprise that more people are adopting mobile payment solutions due to the convenience they provide. An interesting statistic that further proves this is in tourism and travel. Although travel is mostly domestic, 63% of Americans book travel products online. Our report also found that mobile payment preference for financial transactions is growing, with 29% of consumers wanting to manage their insurance plans exclusively online.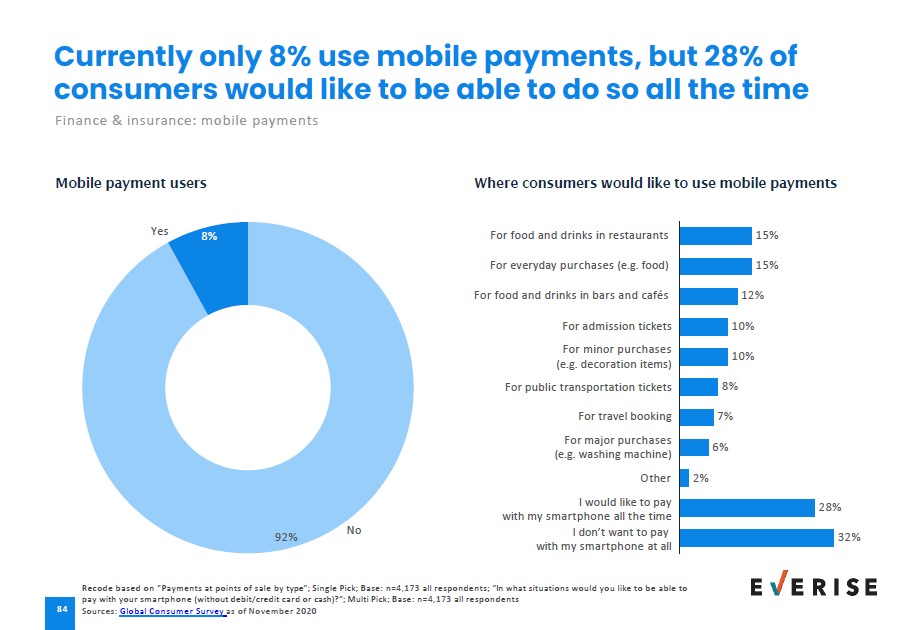 A seamless digital experience in online banking is an important factor to consider to strategically meet the demands of consumers. In the modern digital age, banks and financial institutions need to be digitally transformed to deliver a consistent banking experience, whether it is online or retail.
Businesses cannot afford to ignore the importance of digital customer experience strategies. Ensuring that you provide great digital experiences for your customers could be the key brand differentiator between your brand and the competition.
"If you haven't thought about virtualizing every aspect of your business, you need to start now from recruiting, to training, to HR and engagement. If that is not on your strategy plan, it needs to be. If you're not thinking that far ahead, you can partner with someone or with other forward-thinking companies that are in that space. You really do have to look at the right shoring, infrastructure, and other strategies." - Everise EVP of Operations, Jeremy Jepperson
Related Insights: