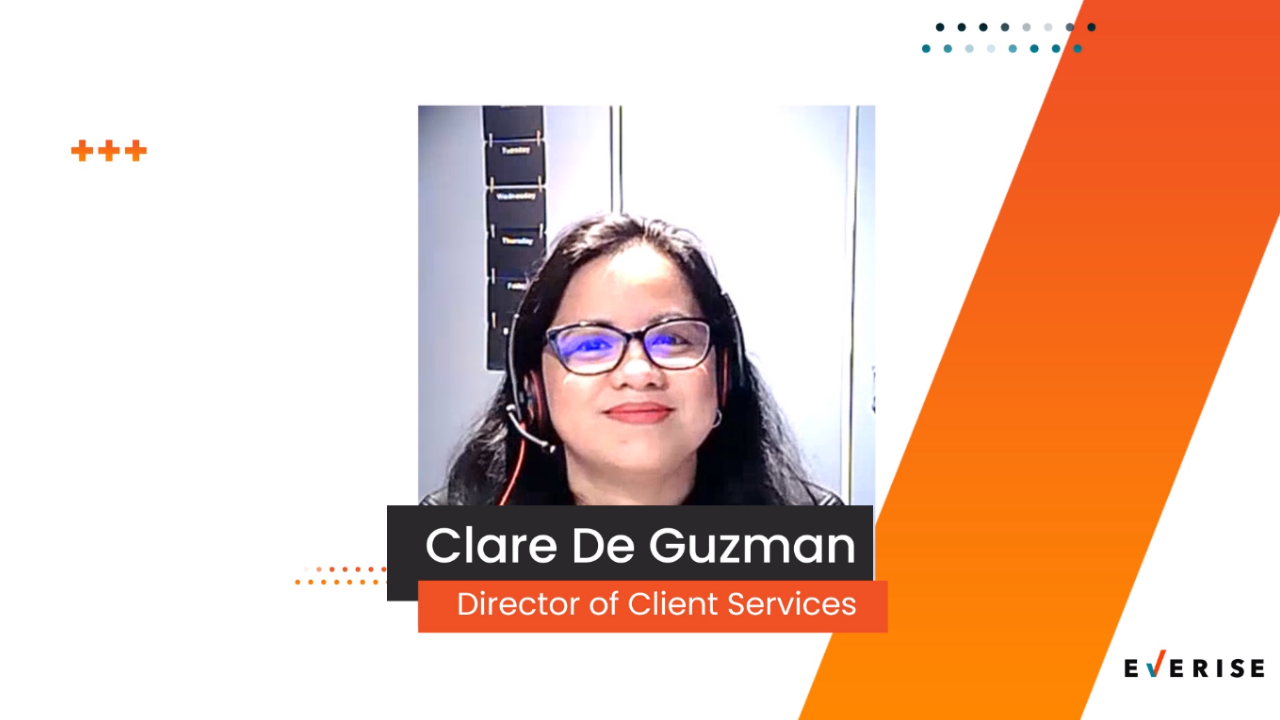 Meet Clare De Guzman, Director of Client Services for Everise Philippines. Clare has been with Everise for over a year and transitioned to working at home when the community quarantines began in her area. In this episode of Live From Our Living Room, Clare shares how she balanced her time with work and family at home and talks about her empowering experiences as a woman working in Everise.
As a Director of Client Services, Clare is no stranger to maintaining schedules. Working from home was challenging at first, but Clare eventually managed to balance her time between work and family by following a schedule that lets her fulfill her work duties while carrying out her responsibilities as a mother.
"I've been with Everise for a year and four months now. Balancing work and my time in the family – it's good that I'm at home, but it's still tough. I think the best thing that I try to do each day is to keep a schedule. It's just really a matter of being conscious of the time."
Working at home gave Clare more time to learn new hobbies and try out new activities with her family. She spent her additional time at home by brushing up on her cooking skills and bonding with her family by watching movies together.
"I have been cooking a lot. I'm not the best in that field, but I can say that I can do a decent one for my family. And then the other thing that I'm having fun doing now with my family, given the whole quarantine, I have more movie nights with my family and the boys."
Clare also talked about her firsthand experience as a female leader in Everise and how she felt Everise's celebration of diversity, especially during meetings and events. She even recalled her past experiences explaining how different the culture at Everise was and how it changed her for the better.
"Being a female leader in Everise is something that I truly appreciate. Cultural diversity & gender equality is something that is driven by other companies, but I can truly say that in Everise, it is something that truly exists because I have experienced it. There have been a few instances in the past wherein I'm the only Filipino or the only female in the meeting, usually, I would be quiet. I would just be there and when I would get asked, I would just answer."
Clare ended the interview by sharing her appreciation for Everise's culture and how it made her feel valued. For Clare, Everise's empowering diversity and inclusion helped her become a better leader and helped her realize her potential.
"I know that I am empowered, that people listen to me, and I am being appreciated because of my capabilities and the value that I bring into the business. It's something that I truly appreciate in Everise."
At Everise, we ensure that we put the spotlight on the people behind our success. That's why we are featuring employees from different walks of life and shedding a little light on the people of Everise. Learn more about our award-winning culture and our people just like Clare today!
Related Posts: