Global CX companies are expected to have customers of varying races, religions, and cultural characteristics. This makes it challenging to maintain positive multicultural interactions while delivering quality customer experiences. In a cross-industry employee survey conducted by PwC, 76% of the respondents claimed that diversity is a stated value or priority area for their organization. But to what extent does diversity affect customer experiences?

Inclusion increases your access to talent
Companies that commit to diversity are measurably more successful, and fostering diversity at the workplace is proven to attract top talent. A Glassdoor survey found that 67% of people consider diversity an important factor when deciding where to work. This shows that top employees prefer working for companies with pro-diverse work cultures and view those as positive indicators for acceptance, collaboration, and growth. According to Forbes, 65% of companies already have programs in place to recruit a diverse workforce.

Furthermore, 86% of female Millennials said that employer policy on diversity and workforce inclusion is essential, and having a culture where people want to work is vital to getting them on board.
"You need to have diversity in order to reach a diverse market, otherwise you're segmenting your market based on a demographic." - Erika Jefferson, president and founder of Black Women in Science & Engineering.
Diverse perspectives increase empathy for your customers
Forrester's 2018 Customer Experience (CX) Index results showed that companies are struggling to create and sustain a human connection with their customers. In order to bridge that gap, CX teams must have one important trait - empathy.
When CX professionals are empathic, they can create connections with customers on a very human level. The more diverse your customer service team is, the more likely they can show empathy towards a diverse customer base and take customer requests seriously.
A diverse customer service team is better equipped to connect your brand with customers. According to a survey by Forbes Insights,

65% of senior executives said recruitment of diverse employees was their top priority.





Disabled Americans have an estimated $544 billion in annual disposable income, and organizations that employ disabled workers can also gain insight into the services and products that fit the needs of a customer base with similar disabilities.




Diverse companies also enjoy the benefits of having more actively engaged employees. A study by Deloitte University found that 83% of Millennials are actively engaged when they feel that they're working for a company that fosters an inclusive culture. The same study also found that only 60% of them will be actively engaged if they feel that the company doesn't support an inclusive culture.



Diverse thinking drives innovative problem solving
Having diverse teams provides companies with broader perspectives that can lead to innovation and creativity. A study from Boston Consulting Group discovered that companies with diverse management teams had 19 percentage points higher innovation revenues than companies with below-average diversity scores.
Further studies showed that inclusive companies are 1.8 times more open to change than less-inclusive competitors. Developing an innovative and diverse workforce exposes your customer service team to various perspectives, opinions, and experiences. They can also share ideas and create original solutions through creative means.
"Diversity of thought in a customer experience team is essential, because CX is such a large umbrella, from web design to customer service to IT. You need to have a diversity of thought because a CX team will be involved in many touchpoints along the customer journey, and the more you can tailor that experience to involve a desired outcome, the better."

– Ian Kelly, Vice President of Operations for NuLeaf Naturals
Diversity accelerates growth

A diverse work environment promotes a wider perspective on customer needs, product improvements, and company well-being. Diverse team members provide unique perspectives, which can help recognize new and different market opportunities. This expanded market awareness can promote growth and produce results. Harvard Business Review reported that diverse companies experienced an improved overall financial performance, citing that EBIT margins for companies with diverse management teams were nearly 10% higher than companies with below-average management diversity. A 2013 Harvard Business Review also affirmed that when at least one team member shares a client's ethnicity, the team is more than twice as likely to understand that client's needs than teams where no member shares that trait.


Gartner found that engaged employees are 24% more likely to help boost sales than their unengaged peers.



A McKinsey & Company study found

by looking at 180 companies in France, Germany, the United Kingdom, and the United States that those with more diverse teams were also top financial performers.



According to McKinsey

, organizations in the top quartile for racial and ethnic diversity were 35% more likely to receive above-average returns and those in the top quartile for gender diversity were 15% more likely to get above-average financial returns.
At Everise, we have always championed diversity and inclusion in the workplace, but a shift to a more flexible and dispersed work culture has removed many barriers and enabled us to increase our inclusion targets across the board. Everise successfully transformed our hiring strategy to overachieve on our diversity targets over the past year.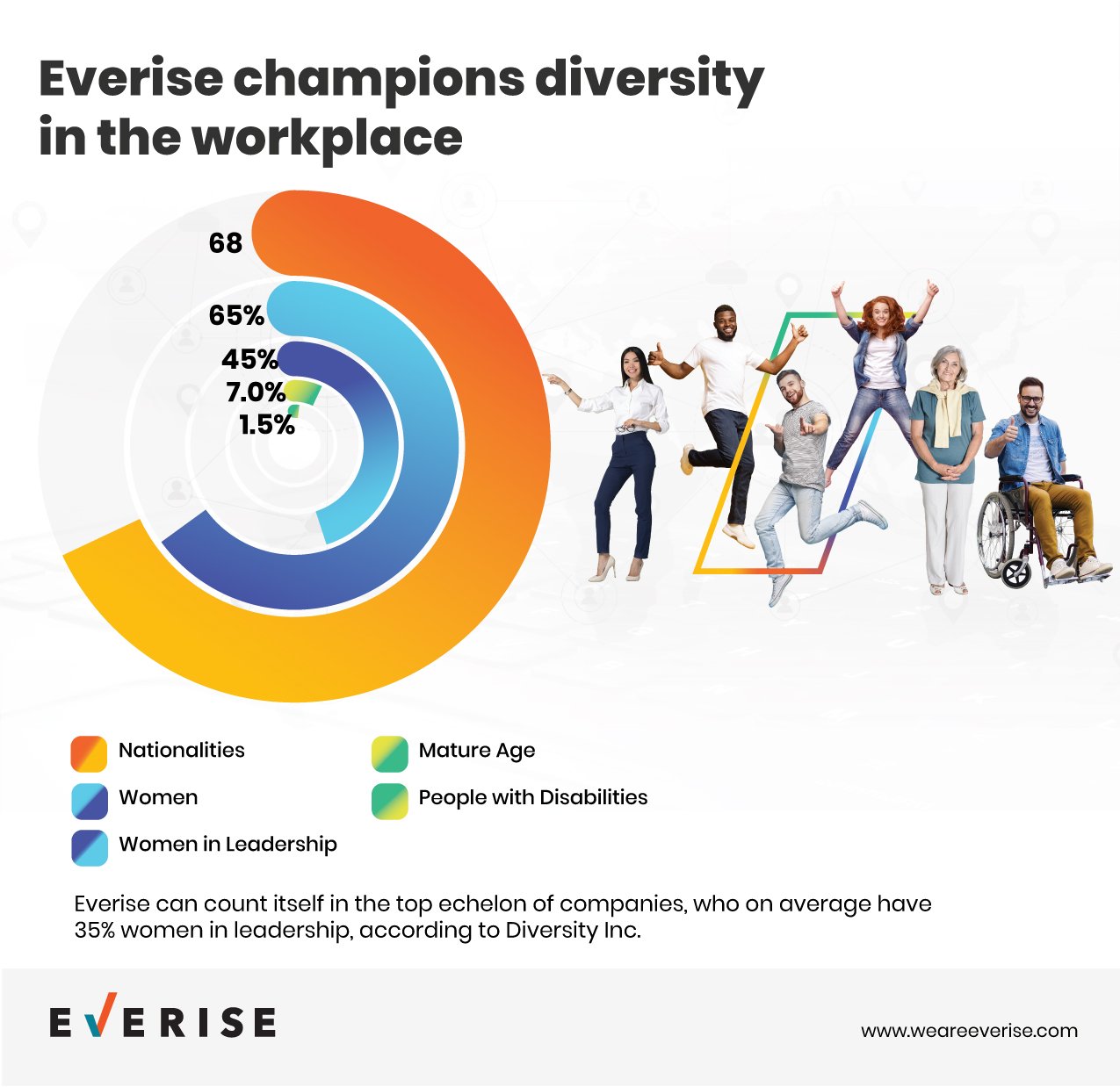 "Today, Everise has both the opportunity and responsibility to attract and hire a more diverse and inclusive workforce, free of the limits of geography. This has forced us to challenge traditional hiring tactics, shifting focus from hiring demographics to psychographics, which is defined as an individual's preferences and aspirations." - Sheena Ponnappan, Everise Chief People Officer
Given all the results from multiple studies and research, organizations would do well to prioritize diversity and inclusion. The strategic and organizational advantages of a diverse workforce drive better outcomes for both businesses and employees. In an ever-changing customer experience environment, a sufficiently diverse workforce could be the key to transforming a good CX company into a great one.
Related Insights: