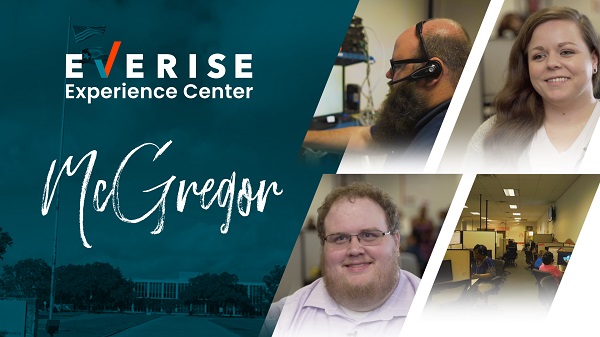 When deciding where to locate an Everise Experience Center, major points of consideration usually include proximity to major population centers, universities, airports and public transportation.
The Everise Experience Center in McGregor, TX – set inconspicuously amid the cow-speckled prairie land between Austin and Dallas, many miles from the nearest university or bus stop in Waco – fails to check any of those boxes; and yet, is one of the most vibrant and productive of our 13 facilities.
There's something special about the people who live in and around McGregor – a town that only appears on Google Maps once you've zoomed really far in. Folks here love the simplicity of life away from the city and the many opportunities it affords to deeply connect with family and community.
It may be this aspect of McGregor that produces such outstanding Everisers. They find great satisfaction in the family feeling they experience among coworkers, and in connecting with and serving our clients' customers – many of which are seniors in need of help navigating the healthcare system. Others enjoy the unique challenges of serving customers of technology and retail clients.
As they enter the lobby of this two-story building exuding classic Cold War era aesthetics and engineered to withstand a direct hit from a type three tornado, Everisers pass an endearing little display dedicated to capturing a moment in the life of a senior citizen. Its purpose is to serve as a tangible and relatable reminder of the unique needs of Medicare subscribers, who make up a large portion of those served in McGregor. Walking around the 600 workstations spread throughout this 48,000 square foot building, one cannot help but notice how happy the agents are. They love helping others and that makes them love their jobs.
Everise has a broad, global footprint, elevating over 500,000 interactions per day from experience centers in six countries on three continents. Among those, McGregor, TX may not be the most obvious place, but it's turned out to be one of the best, and is always looking for smart, motivated, career-minded individuals to add to our top-notch team. Learn more by clicking the button below!
Join us!