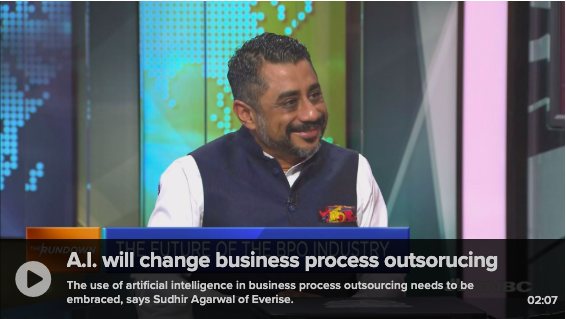 AI (Artificial Intelligence) will transform the BPO industry, this is what Everise CEO, Sudhir Agarwal explained in an interview with CNBC senior correspondent, Sri Jegarajah, as he explained that technology should not be viewed as a threat, and only those that embrace it can survive the future of the Business Process Outsourcing (BPO) sector.
Everise, a global customer experience company, is set to partner with Microsoft by using AI platform that will increase efficiency and productivity, saving clients their money and produce more work than what other BPO companies are able to do.
This jump towards business automation, however, does not mean job losses. Agarwal explained that with technology the industry will evolve and not perish.
"I think it means the evolution of call centers. Call centers will transform into experience companies. I think it will become more omnichannel. And I think you have to embrace technology, so it is not the end of all," he said.
When questioned about customer feedback when it comes to the new AI platform, Agarwal shared promising responses among their clients.
"We set up our first two digital labs, one in Vegas and one in Manila. And we got our clients in there and they've been absolutely blown away, because really the clients want to see solutions. They want to see how we work with technology companies and what solutions we can level up that will directly impact them, so they are absolutely thrilled," Agarwal said.
He added that this news about technology will surely excite all their clients.
In the end of the CNBC interview, Agarwal reiterated the importance of technology as an opportunity to evolve.
"You got to take technology, not as a threat, but you got to embrace it. For us, this (AI Platform) is a unique opportunity with Microsoft that we can disrupt the industry, and I think others will follow soon."
Everise aims to become a $500 million-dollar powerhouse in the BPO sector through this partnership with Microsoft's AI platform.
Watch the full interview here.