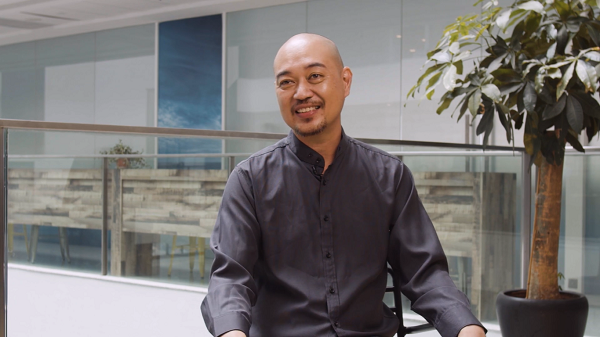 New experiences can help us discover life-changing lessons and realize the more important things that are happening in our lives. Meet Van Paras, Workforce Manager for Globee Malaysia. In this episode of People of Everise, Van shares his experience of moving to another country and becoming a part of Globee, while talking about the family activities and places he grew fond while he was staying in the Philippines.
Before moving to Malaysia, Van spent most of his life in his home country of the Philippines. Growing up from the province of Pampanga, he eventually moved to Manila when he started working. It was also while staying in Manila when he met his wife and got married.
"My province is Pampanga, in the Philippines. I grew up there and moved to Manila, where I worked basically from the day I started working, up until I got married."
After building his career and life in Manila, Van got used to living in the Philippines, but he was still open to new experiences and work opportunities to further his career. While working for Everise in Manila, he applied for an opening to work for Globee Malaysia through one of the Everise Exchange Programs. He eventually acquired a position, and he has become part of the company ever since.
"I was working with [Everise] as a workforce manager...and then there was an opening for the Everise Exchange Program, so I applied for it and got a position for a Workforce Manager here in Globee Malaysia!"
Living in Malaysia was a whole new experience for Van, but he eventually became familiar with the new customs that came along with moving to a new country. But, Van still misses the wonders of the Philippines. He recalls fond memories of weekends with his family, and the outdoor excursions they would often embark on. His favorite weekend getaway was camping on the beach with his wife, traveling together on their motorcycle.
"Here in Malaysia, I do stuff like cooking and watching movies. But back in the Philippines in my spare time, for example, on Saturdays or Sundays with my wife, we would go riding on my bike. I have a motorcycle that we rode to the beaches in Manila. We would actually pitch a tent because we wanted to pitch up a tent, cook ourselves, and go to the beach. Then the following day, like in the afternoon, we would go home."
Whenever Van and his wife went to the beach, their preferred method of traveling was by motorcycle. He claims that it was better to travel that way since it was more difficult to commute due to the series of roads and the oncoming traffic. Van explains that his weekend rides to the beaches in the Philippines taught him the value of patience, which also became helpful when it came to his work.
"When you ride your bike, you should be patient when riding, that's the first thing because it's not very easy to commute or ride your bike from and to the beach. You need to go through the series of roads, and the traffic, and whatnot. So you need to be very patient, and that's actually helping me in my work."
As a member of Globee Malaysia, Van is now part of a diverse culture that helps him take his career to another level. When asked about his favorite thing about working with Globee, he claims that the diversity and the opportunity of meeting different people are what he loves most.
At Everise, we ensure that we put the spotlight on the people behind our success. That's why we are featuring employees from different walks of life and shedding a little light on the people of Everise. Learn more about our Malaysia Experience Center and our people just like Van today!
Related Posts: