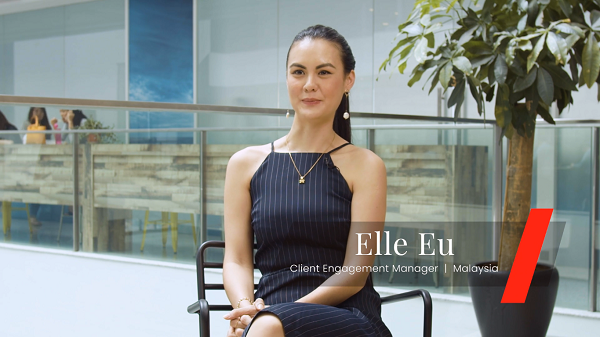 Meet Elle Eu, a Client Engagement Manager for Globee Malaysia. As the first employee of Globee Malaysia, Elle has been with the company since it launched and has been part of its successful growth story. In this episode of People of Everise, she talks about her love for outdoor activities and leading an active lifestyle while sharing a glimpse of life in the fast-growing city of Kuala Lumpur.
Elle grew up in Kuala Lumpur, and the natural environment that surrounds the city became part of her everyday life. She enjoys spending most of her spare time doing outdoor activities such as running and hiking. Her love for outdoor activities brought her to different places, and she recalls her trips to different countries where she went on hikes to experience different wonders of nature. For Elle, experiencing nature gives her a sense of belonging and reminds her of the countless possibilities that the future can bring.
"I enjoy the outdoors very much. I'm really into keeping myself fit, sporty, and active, so I like to invest my time in outdoor runs and hiking. I remember the hike I did in Ibiza to Es Vedra, and it just overlooked the ocean, and it was like an endless view that goes on. At that moment, you feel like you're infinite that there are endless possibilities ahead of you, and that's beautiful."
Elle's active lifestyle drove her to challenge herself in her professional life, encouraging a more productive mindset towards her work.
"With that, it inspires you... to challenge your physical self. It's the same sort of way that you do at work as well. You open yourself to new possibilities."
Elle has been a part of Globee Malaysia since it first opened. She has witnessed the company's growth first-hand and has enjoyed the journey.
"I am proud to mention that I was also employee number one for the company and I've got to see it grow so massive now... and it makes me proud. It's such a satisfying feeling and I'm definitely proud to be part of the journey."
Elle is one of the many diverse and wonderful people at Globee Malaysia. Her colorful personality affects all those around her. We're thrilled to have her as part of the Everise family.
At Everise, we ensure that we put the spotlight on the people behind our success. That's why we are featuring employees from different walks of life and shedding a little light on the people of Everise. Learn more about our Malaysia Experience Center and our people just like Elle today!
Related Posts: