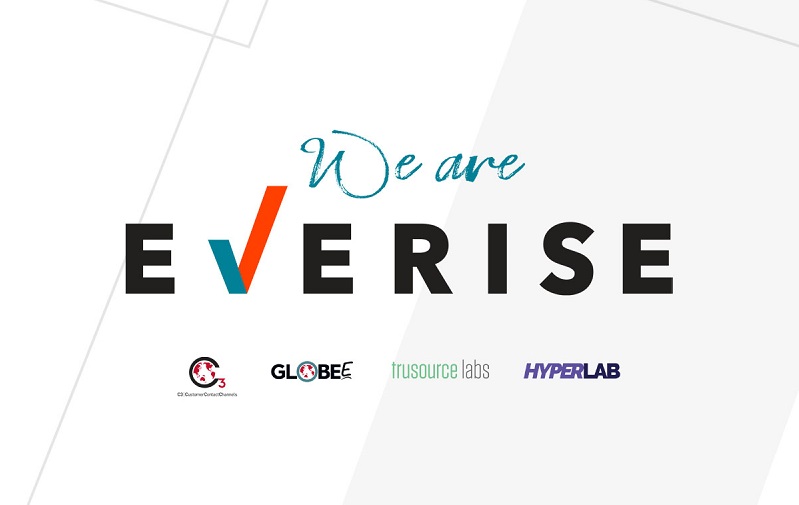 Singapore-based Experience Company, Everise announced another milestone as it grew to be an almost $300M global customer experience company, since it began only three years ago. The company now has over 12,000 Artificial Intelligence (AI)-expert agents powering over half a million-customer experience engagement on a day-to-day basis.
This growth follows a series of wins for the company, starting from the partnership with Microsoft AI, acquisition of Malaysia-based Hyperlab and US-based Trusource Labs, and the joint venture with a Korean Business Process Outsourcing (BPO) firm, Ubase in Malaysia. These events positioned Everise near its goal of becoming a $500 million global experience company by 2022 and to grow in key Asian markets in the next few years.
Everise was formed in 2016 to transform the BPO industry by partnering and acquiring innovative companies that would help provide an omnichannel customer service solution that targets voice, video and text engagements and provides an unparalleled intelligent, customer-focused experience by utilizing the power of AI. Today, Everise employs 12,000 AI-augmented employees, providing multi-language support of over 10 languages in 17 customer experience hub across the world, including Singapore, Malaysia, Philippines, Ireland, Guatemala, and the USA.
"Early on we saw the challenges that the BPO industry would face thanks to the changing nature of customers' relationship to brands" Says Sudhir Agarwal, CEO of Everise, adding "the explosion of different means of communication from text and instant messaging to chatbots, social media and e-mail among others has made customer service more complex. Customer expectations are rising as has the consequences of sub-standard service thanks to social media. This has all contributed to a growth in the amount of data and information a customer service employee has to deal with, and the international nature of commerce today means they are required to provide multilingual services, 24 hours a day."
"Everise have implemented technologies that allow service employees to easily communicate with customers across multiple channels, in multiple languages, and leverage Artificial Intelligence (AI) to draw information from different sources and present to the employee in an easy to understand – and actionable – fashion. Furthermore, automation technologies have reduced the amount of repetitive, rules-based work that each employee does, leaving more time for customer-facing duties, and Chatbot development has allowed clients to further refine their customer service functions."
In February 2018, Everise partnered with Microsoft to develop an Artificial Intelligence (AI) platform to create an omnichannel customer service. This partnership is showcased through Experience Labs located in Malaysia, the Philippines, and the USA. Here, clients can tailor-make their own AI-powered customer solutions that best fit their business needs.
In September 2018, Everise acquire Malaysia-based company, Hyperlab, Southeast Asia's leading conversational AI company. Hyperlab has built a robust Conversational AI platform that automates and elevates both Customer Experiences (CX) and Employee Experiences (EX). By merging Robotic Process Automation (RPA) with AI, Natura Language Processing, speech recognition, and contextual awareness, Hyperlab introduced a digital workforce that will empower customer service team across the Everise offices.
In December 2018, Everise strategically acquired Trusource Labs, an innovative Silicon Valley company that specializes in technical support of Internet of Things (IoT) devices. The move gave Everise the opportunity to tap into the growing customer service demand for IoT innovations in homes and offices. The IoT market is expected to double by 2021, and specially-trained agents are needed to provide accurate and efficient support.
Everise also launched Globee, a global business services center, which is a joint venture between Everise and South Korean BPO giant, UBASE, which is based in Malaysia. Globee aims to meet the needs of customers by providing an omnichannel customer service experience for clients nearshore and offshore.
The business solutions hub also provide multi0language solutions and leverages Microsoft AI platform to elevate the customer service delivery, expand the scope of client services, be a potential growing platform for transformative ventures.
"In today's experience-led economy, people don't buy products, they buy experiences. When disruption is the norm, the businesses who put their customers first, are the ones who rise above it," Agarwal said, "From the outset, we have been focusing on bringing together the best people and technology to build an augmented workforce that is able to offer our visionary clients the transformative services they need to continue growing. We fully expect to continue expanding over the next few year and aim to reach half a billion dollars in value by 2022".
To signal its vision, Everise transformed its logo, making the "V" standout to symbolize change and growth.
"Everise is a beacon for growth and disruption in the traditional BPO industry," says Chris Greenough, VP of Product Marketing & Strategy at Hyperlab. "Our goal with relaunching Everise's new identity is to highlight how together, we are able to change customers into the community, and people into a digitally enabled workforce," he added.
To carry this unifying message, Everise and all companies under its umbrella will carry the "We Are Everise" banner- a reminder of our wholistic and systematic approach in providing a seamless omnichannel customer experience solutions for all customers across the globe.